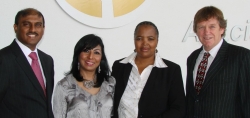 Mr Preggie Pillay, (Provincial Chairman FNB KZN) Mrs Lalita-Dhasiar-Ventura(KZN Top Business); Mrs Pearl Bhengu, (Head of Public Sector FNB KZN) and Mr Grant Adlam (KZN Top Business)
FNB KZN Top Business Portfolio Awards 2011 Finalists
2011-06-30
First National Bank (FNB) together with the publishers of the KwaZulu-Natal Top Business Portfolio are currently in their final stages of preparation for the fifth FNB KZN Top Business Portfolio Awards.

The awards are judged according to the nominated companies' achievements in each of the major economic sectors. Companies must incorporate best business practices, while contributing to the socio-economic growth of KwaZulu-Natal.

The judges are pleased to announce the following finalists across the economic sectors:
Tongaat Hulett, NCT Forestry Co-operative, Orange Grove Dairy, Richards Bay Minerals, Corobrik, Spring Lights Gas, Sappi Forests, Sappi Southern Africa, PFK Electronics, Southern Sun Elangeni, Ezemvelo KZN Wildlife, Suncoast Casino & Entertainment World, Fry Group Foods, Umgeni Water, Wiehahn Formwork & Scaffolding, Magnet Electrical Supplies, King Shaka International Airport, Metrofile, Mzansi Electronics, Armstrong Appointments, PC Training and Business College, Bakers Transport, and The Association for the Aged (TAFTA).

In an exciting new initiative an award will be given to what business believes is the leading KZN brand. A brand is much more than a company's name or a label on packaging - it is the image and value that consumers associate with a product or service offering. The following ten companies are finalists in the KZN Top Brand poll. In alphabetical order they are:
• Coo-ee
• Edison Power Group
• Graduate School of Business (UKZN)
• HR Matters
• Hirsch's
• KZN Oils
• Mzansi Electronics
• Shave Paint & Dιcor
• PC Training & Business College
• Signature Life Hotels

Make your opinion count by selecting the KwaZulu-Natal brand that you believe deserves to be the winner. Visit KZN Top brands on www.topbusiness.co.za.

The directors of FNB and KZN Top Business Portfolio congratulate all of the finalists on their success and look forward to announcing the award winners on the 14 July at a sumptuous gala dinner to be held at the Moses Mabhida Stadium.


---