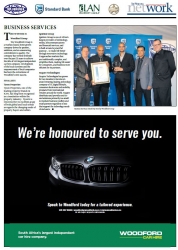 Business Services Award was won by Woodford Group
KZN Top Business Awards 2017 : Business Services : THE WINNER IS Woodford Group
2017-08-11
THE WINNER IS Woodford Group

The Woodford Group is a Durban-based, home grown company driven by passion, ambition, and an unwavering commitment to quality. The company has worked tirelessly over the past 25 years to achieve the title of SA's largest independent car hire company. Development of the local economy and the empowerment of local companies has been the cornerstone of Woodford's own success.

FINALISTS
Tyson Properties
Tyson Properties, one of the leading property brands in KZN, has long been recognised as a trendsetter within the property industry. Tyson's is renowned for its excellent grasp of both global and local trends as regards the changing needs of property buyers and sellers.

Ignition Group
Ignition Group is one of Africa's largest providers of technology, media, telecommunications and financial services, and is built around a powerful purpose - to make life better through innovative technology.

It approaches markets that are traditionally complex, and simplifies them, making life easier for consumers, and business more efficient for its partners.

Esquire Technologies
Esquire Technologies has grown for two decades to become an award winning, leading-technology company of IT, digital lifestyle, consumer electronics and mobility products from international vendors around the world. Esquire distributes and provides end-to-end solutions primarily too small to medium business resellers and retail partners regardless of size that support the technology needs of end users.
---