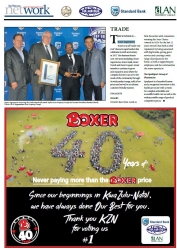 Boxer Superstores receiving the Trade Award with Mark Taylor (eLan Property Group) and Imraan Noorbhai (Standard Bank) (Photo: Ish K Bugwandass, eLan Property Group)
KZN Top Business Awards 2017 : Trade : The Winner Is Boxer Superstores
2017-08-11
THE WINNER IS ... Boxer Superstores

Boxer is an all 'under one roof' discount supermarket that celebrates its 40th anniversary in 2017. This business boasts over 240 stores including: Boxer Superstores, Boxer Build, Boxer Punch and Boxer Liquors. Boxer intends to continue to grow and expand in areas where the company knows it can serve the needs of the community through its wide product range, sold at low prices and served in an efficient
customer friendly manner.

FINALISTS
Hirsch's
Hirsch's have been voted as firm favourites with consumers, winning the Your Choice Awards in KZN for the last 12 years Hirsch's has built a solid reputation by being associated with big brands, giving good service and carrying a wide range of products for the home, as well as supporting its employees and the communities the stores operate in.

The Sparkport Group of Pharmacies
Sparkport is a household name and a recognised innovator in the healthcare sector with a vision for complete affordable and accessible health care as well as the widest possible range of goods at competitive prices.
---