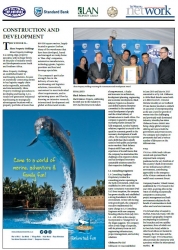 Shree Property Holdings recieving the Construction and Development Award
KZN Top Business Awards 2017:Construction And Development:The Winner Is Shree Property Holdings
2017-08-11
THE WINNER IS... Shree Property Holdings

Shree Property Holdings is a cutting-edge, property specialist, with its finger firmly on the pulse of industry trends and developments across South and Southern Africa.

Shree Property Holdings, an established leader in warehousing solutions, focuses on seamlessly connecting clients to key logistics supply chain nodes regionally, nationally and internationally. Shree Property Holdings specialises in developing and leasing AAAGrade new generation industrial warehousing in strategically advantageous locations with a property portfolio of more than 800 000 square metres, largely located in greater Durban. Many of the warehouses that have been developed, leased and managed are today home to 'blue-chip' companies, automotive manufacturers, technology giants, logistics providers and food and beverage specialists.

The company's particular strength lies in the delivery of turn-key warehousing and logistics solutions, innovatively customised to meet individual client requirements, and in optimising space and f low by drawing on intensive research, international development and global architectural trends.

FINALISTS
Black Balance Projects
Black Balance Projects, celebrating its tenth year in the industry in 2017, has lived true to its values of empowerment. A leader and innovator in architecture, development planning, engineering and economic development, Black Balance Projects is a dynamic and skilled business enterprise committed to the sustainable social development of people and the critical delivery of infrastructure in South Africa. The company is geared to satisfying increasing market demand for fully integrated, turnkey business solutions, regarded as crucial in the quest for economic growth in the necessary development of South Africa. The company has expertise and a skills base that is ideally suited to both public and private sector markets. Black Balance Projects skills' base and the experience of its staff means that the company has internalised the challenges of its respective clients and has developed innovative sustainable solutions suited for their respective challenges.

LA Consulting Engineers
LA Consulting Engineers Proprietary Limited is a consulting practice operating in the built environment, which was established in 2000 under the name Letsunyane Associates (Pty) Ltd. Since inception, the company has grown steadily and established a strong foundation in the built environment. In line with its long term growth path, the company's executive implemented the name change to LA Consulting Engineers with new company branding effective from July 2013.

LA -Life Africa is the concept incorporated to "change lives" as the slogan suggests. The company offers a wide range of expertise, with its primary focus on civil engineering infrastructure, project management, and turnkey solutions.

Globacon Pty Ltd
Globacon CC was established in June 2010 and later in 2015 converted to a Pty Ltd. Globacon is 100% Black female owned with a B-BBEE level of 1. Director Patricia Moodley an ex Nedbank Private Banker decided to embark on a journey of entrepreneurship as she saw a need for growth of women into this challenging and previously male dominated industry. Moodley has taken Globacon from a SMME into being a large global company offering services to both the government and private sectors.

The company now employs 20 permanent staff and a various number of labourers on the different sites.

VNA
VNA is a 100% South Africanowned and operated black empowerment company positioned at the very forefront of this country's built environment service infrastructure delivery environment, contributing appreciably to the emergence of the African continent as the world's next economic thrust.

Company founder, Vikash Narsai, established the VNA brand in the year 2000, so giving effect to his vision of offering exceptionally competitive construction project management and built environment solutions for the benefit of communities in both urban and rural environments.

VNA's head office is located in Durban, KwaZulu-Natal, with the company's geographic footprint encompassing an additional five branches and two satellite operations, three of which vest in KwaZulu-Natal, whilst its other local offices are located in Gauteng, the Free State and the Western Cape. VNA's Mauritius office provides the enterprise with a presence within the international market.
---