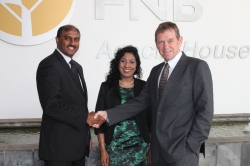 Preggie Pillay, FNB KZN Chairman,Grant Adlam and Lalita Dhasiar-Ventura
Durban; 21 May 2012- First National Bank and the KZN Top Business Portfolio team have announced the sixth FNB KZN Top Business Portfolio Awards. The awards are a platform to celebrate the successful companies and organisations that operate in KwaZulu-Natal.
Over the years of their existence the Awards have firmly established themselves as a highlight of the KZN business calendar. They offer an excellent opportunity for all business sectors to showcase their achievements to their peers. This year's event will be held on the evening of the 28th June at the Elangeni Hotel in Durban.
Preggie Pillay, FNB KZN Chairman says; "FNB is proud to be associated with the Awards that seek to stimulate economic activity and growth in the Province. FNB works through a strategy of partnerships and we feel the collaboration between the Bank and the Top Business Awards fits firmly with our strategy."
There are 13 categories in this year's event and they mainly focus on recognising business and organisational success across the economic sectors in both the private and public arenas. Entrants must incorporate best business practices, while contributing to the socio-economic growth of KwaZulu-Natal.
"By recognising and communicating the achievements of successful companies and organisations, they serve as an example and an inspiration to others to do business in the Province." says Lalita Dhasiar-Ventura, co-publisher of the KwaZulu-Natal Top Business Portfolio.
Entries close on the 15 June 2012.

For more information on the KwaZulu-Natal Top Business Awards, please visit www. topbusiness.co.za.
<span arial="" class="" msonormal""="" p="" span="" font-size:11.0pt;font-family:"arial","sans-serif";"="" unicode="">For more information contact:
Gayle McLennan-Smith
Editor
Tel: 031 2671977
Cell 083 6530465
gayle@topbusiness.co.za
www.topbusiness.co.za
Thabi Mokoena
FNB Communications
Tel: (011) 352 0410,
Cell: 073 542 6410
E-mail Thabi.Mokoena@fnb.co.za