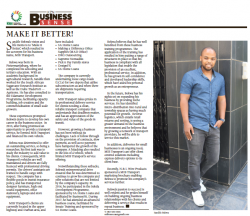 Sandile Bekwa - Make It Better!
Sandile Bekwa's vision and life motto is to 'Make it Better', which resulted in the acronym for his business name, MIB Transport.
Bekwa was born in Pietermaritzburg, where he completed his schooling and tertiary education. With an academic background in agricultural research, Sandile then worked for the South African Sugarcane Research Institute as well as the Dube TradePort -- Agrizone. He has also consulted to the Edamame Development Programme; facilitating capacity building, job creation and the commercialisation of small scale growers.
These experiences prompted Bekwa's desire to develop his own career in the business sector. In 2015, after being promised an opportunity to provide a transport service, he formed MIB Transport and financed his own vehicle.
Bekwa was determined to offer an outstanding service, so being a researcher, his first task was to study the industry to add value to his clients. Consequently, MIB Transport's vehicles are well maintained and drivers are fully licenced with professional driving permits. The drivers' assistants are trained to handle cargo with respect. The company has a flexible goods in transit insurance policy, and has transported designer furniture, high end sound equipment, office stationery, laptops and store equipment.
MIB Transport's clients are currently located in the upper highway and Durban area, and have included:
SA Home Loans
Making a Difference Office Supplies (MAD Office)
DRG Outsourcing
Supreme Nomadiks
Pick n Pay Family stores
DesignFX
SA Home Loans
The company is currently undertaking loose cargo loads (LCLs) for two depots that utilise subcontractors as and when there are shipments requiring transportation.
MIB Transport takes prides in its professional delivery service for clients needing a clean, reliable transport company that understands that deadlines matter, and has an appreciation of the safety and value of the goods in transit.
However, growing a business has not been without its challenges. Lack of follow through on the provision of contracts, slow payment, as well as no payment have hampered the growth of the company. A hijacking also resulted in the loss of a vehicle, which limited MIB Transport's service offering.
Notwithstanding these setbacks, Bekwa's entrepreneurial drive ensured that he was determined to continue to grow his company and offer solutions that are not limited by the company's capacity. In 2016, he participated in the Sekela Development Programme, sponsored by SA Home Loans and facilitated by BusinessFit. During 2017, he has attended an advanced business course, facilitated by Innate Training and sponsored by SA Home Loans.
Bekwa believes that he has well benefited from these business training programmes. The application of the training has resulted in him putting a range of structures in place so that his business is compliant with all legislation that enable the provision of an excellent, professional service. In addition, he has grown in self-confidence and developed leadership skills, which have aided his personal growth as an entrepreneur.
In the future, Bekwa has his sights set on expanding his business by providing niche services. He has identified micro-distribution into rural and township spazas as having much potential for growth. Reverse logistics, which entails retail returns and sorting, is seeing a greater demand in the business environment and he believes that by growing a network of transport providers, he will be able to service this market.
In addition, deliveries for small businesses is an ongoing need; MIB Transport can offer client centred solutions including express delivery options to its client base.
Recently, N & L Wire Products sponsored a MIB Transport marketing brochure enabling Bekwa to promote his company's services further.
Bekwa's passion to succeed is well evident and he prides himself on building ongoing business relationships with his clients and delivering a service that results in repeat business.
T: 083 500 0506
mibtrans.za@gmail.com