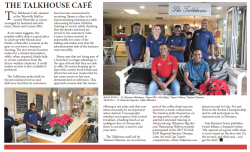 The Talkhouse Cafe BACK ROW, L - R: Ndumiso Mthalane, Shane Ellis, Mzi Mjaji, Thami Ndlovu, Thabani Dlamini SEATED, L - R: Ndumiso Ngcobo, Njabs Mbambo
The Talkhouse Cafe
2017-12-07
The Talkhouse Café, situated at the Westville Mall in central Westville, is owner managed by husband and wife team, Shane and Leanne Ellis.

As its name suggests, the popular coffee shop is a great place to catch up with friends and family; refuel after a session at the gym or even have a business meeting. The airy terrace location makes for a relaxed atmosphere, while, when required, blinds help to screen customers from the fiercer weather elements. A small indoor section is also available if preferred.

The Talkhouse pride itself on the personalised service and delicious food that its customers have become accustomed to receiving. Shane is often to be found standing chatting at a table (discussing his latest triathlon training or event), while checking that the drinks and food are served to his customers' taste. Leanne (a keen runner) is responsible for some of the baking and makes sure that the administration side of the business runs smoothly.

Shane says that not being part of a franchise is a huge advantage to the type of food that they are able to offer. He enjoys keeping up to date with current food trends and often tries out new recipes that he has come across or has seen demonstrated on television. This approach ensures that the menu's offering is not static and that new items can easily be incorporated when desired. Consequently, whether you require a full cooked breakfast, a banting lunch or an indulgent slice of cheesecake, there is certainly a meal to suit your taste.

The Talkhouse staff, led by Thabani Dlamini, are an intrinsic part of the coffee shop's success and form a much-valued team. The baristas pride themselves on serving perfect cups of coffee and have attended training in Johannesburg. Ndumiso Ngcobo and Thamsanqa Ndlovu recently participated in the 2017 SCASA KZN Regional Barista Champs, Latte Art and Cup Tasters competitions, where Ndumiso was placed second in Latte Art and third in the Barista Championship and he will participate in the national event in February.

Says Business Sense publisher Grant Adlam, a frequent visitor, "My opinion of a good coffee shop is never based on the first visit. It's the second, and third and... you get the drift."



---