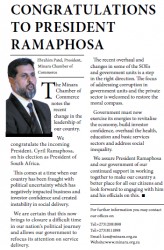 Ebrahim Patel - Congratulations To President Ramaphosa
Ebrahim Patel - Congratulations To President Ramaphosa
2018-02-25
The Minara Chamber of Commerce notes the recent change in the leadership of our country.
We congratulate the incoming President, Cyril Ramaphosa, on his election as President of South Africa.
This comes at a time when our country has been fraught with political uncertainty which has negatively impacted business and investor confidence and created instability in social delivery. We are certain that this now brings to closure a difficult time in our nation's political journey and allows our government to refocus its attention on service delivery.
The recent overhaul and changes in some of the SOEs and government units is a step in the right direction. The focus of addressing corruption in government units and the private sector is welcomed to restore the moral compass.
Government must now exercise its energies to revitalise the economy, build investor confidence, overhaul the health, education and basic services sectors and address social inequality.
We assure President Ramaphosa and our government of our continued support in working together to make our country a better place for all our citizens and look forward to engaging with him and his officials on this.
For further information you may contact our offices on:
Tel:+27312081898
Tel:+27318111898
Email:
kzn@minara.org.za
Website:
www.minara.org.za
---