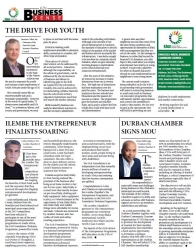 Cobus Oelofse - Ilembe The Entrepreneur Finalists Soaring
Cobus Oelofse, CEO, iLembe Chamber of Commerce
It has been just a few months since the iLembe The Entrepreneur 2017 competition and already the finalists are reaping the benefits of their hard work and the exposure that they received through this flagship entrepreneurial development programme.
Lettie Mthembu and Yolanda Cronje, finalists from the Mandeni and KwaDukuza local municipal areas respectively in the 2017 competition, have been selected to participate in one of the most prestigious entrepreneurial programmes in South Africa, the SAB Foundation Tholoana Programme, powered by Fetola.
Lettie is the owner of BM Amandla Emicabango (Pty) Ltd (Power of Thoughts), a rural based mini-superette, supplying groceries, airtime and household products to the remote Mangethe Makwhanini community. After being in business for a mere five and
a half years, Lettie has built a business with 520 loyal customers. She also offers a door-to-door delivery service for the elderly and the infirm. Lettie's business mentor is
seasoned Jim Wilson.
Yolanda acquired Baby2Baby in 2016, having realised the potential of the business after being an at home mother to her son for two years. Baby2Baby is a retail store that mainly focuses on pre-loved baby clothing and baby equipment. Baby equipment
is pricy, so Yolanda jumped at the opportunity to buy Baby2Baby, and make baby and toddler things more affordable for moms and dads. Yolanda was mentored by Heather Pienaar, who has oodles of retail and online retailing experience.
The SAB Foundation Tholoana Programme, powered by Fetola, is a national entrepreneurial development programme that offers high potential businesses and/or committed entrepreneurs advanced business development exposure.
It invests in entrepreneurs and social innovators, with the emphasis being on services
and products that benefit women, youth, people living in rural areas and persons living with disabilities.
The SAB Foundation is an independent trust that annually invests millions of rands in
developing entrepreneurship in South Africa and ensuring that low-income communities are uplifted.
Congratulations to Lettie and Yolanda on representing the iLembe Chamber's The Entrepreneur Programme, and its partners, in the 2018 SAB Foundation Tholoana Programme.
The iLembe Chamber's partners in The Entrepreneur programme are Enterprise iLembe, ACSA King Shaka International Airport, Sembcorp Siza Water and the North Coast Courier.
The launch of the 2018 edition of The Entrepreneur Programme will take place on the 17th of May 2018.
ceo@ilembechamber.co.za