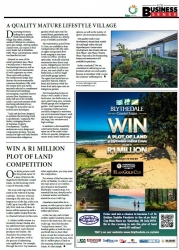 eLan - Win R1 Million Plot Of Land Competition
eLan - Win R1 Million Plot Of Land Competition
2018-07-11
One lucky person could be the proud owner of a piece of land on the magnificent Blythedale Coastal Estate, on the booming North Coast of KwaZulu-Natal.

The eLan Gold Cup is the final event in the Festival of Racing Calendar. There are 16 horses running in the main race, the longest race of the day, at the eLan Gold Cup at Greyville on 28th July 2018. Each one of these 16 horses will be teamed up with a Golden Saddle Finalist from the 16 Channel Partners in this event.

A Golden Saddle winner is a randomly chosen finalist who has submitted their application to this contest. Each channel produces one finalist. The channel is the avenue that you, the contestant, took in the process of submitting your application. For example, through the KZN Top Business ticket application, you may enter the competition.

The winner of that becomes one of the 16 finalists. In order to win the main prize of a R1 million plot of land in the beautiful Blythedale Coastal Estate, it is essential that you, should you be a channel winner and finalist, attend the eLan Gold Cup. Attendance must either be in person, or with a proxy in order to win the magnificent prize of a R1 million plot of land.

At the race day, each virtual Golden Saddle randomly draws a horse in the main race, the eLan Gold Cup. They then become "virtual horse owners". The finalists gather at both the start and finish line to cheer their
horse on and the virtual owner of the horse that wins the race, wins the R1 million piece of land on the stunning Blythedale Coastal Estate. It's that simple.
---