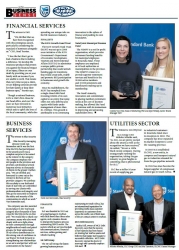 Financial Services - The Winner Is FMI
Financial Services - The Winner Is FMI
2018-07-13
The winner is FMI

"I'm thrilled that we have been recognised with this prestigious award, particularly considering the standard of nominees alongside us." CEO, Brad Toerien.

"I love the fact that I get to lead a business that is making a difference. We develop life insurance products that protect you against the financial impact of an injury, illness or even death by providing you or your family with an income if you are unable to work. That means that every time we pay a claim, we are helping someone provide for their family or keep their business open," Toerien says.

Though a national business, KZN is FMI's first chose for our head office, and over the years we have invested in numerous local initiatives which seek to uplift the lives of the local community, while also spreading our unique take on the life insurance industry.

FINALISTS
The KZN Growth Fund Trust
The KZN Growth Fund Trust (KGFT) was set up in 2008 as an initiative of the KZN Government's Department of Economic Development, Tourism and Environmental Affairs (EDTEA) to administer a unique public-private partnership that would unlock funding gaps in transitions that would create jobs, enable and promote BEE participation in businesses and growth the economy.

Since its establishment, the KGFT has morphed from a single closed debt fund investing R362m of its own
capital to an entity that today offers not only debt but also equity with funds under management of more than R1.1 billion. This growth is attributable to its continuing innovation in the sphere of finance and pushing its own boundaries.

Natal Joint Municipal Pension Fund
The NJMPF is a not for profit organisation, which provides retirement funding benefits for municipal employees in KwaZulu-Natal. These employees are employed at 55 local authorities or municipalities in the province.

The NJMPF's vision is to provide superior retirement services and benefits to the 20 000 active members
and 10 000 pensioners and beneficiaries making up its membership.

The Fund's tenacity, innovation and commitment in placing members retirement needs at the core of decision making, has allowed the Fund to continue with its momentum in improving and advancing stakeholders lives.
---