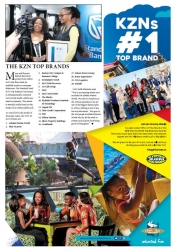 The KZN Top Brands As Voted For By The People of KZN - uShaka Marine World
The KZN Top Brands As Voted For By The People of KZN - uShaka Marine World
2018-07-13
Many well-known brands have been grown from within KZN and have made an indelible mark on consumer
behaviour. The Standard Bank KZN Top Business Top Brand is enthusiastically contested over several weeks, which sees much excitement. This award is awarded solely based on the results of an online public poll.
As voted for by the people of KwaZulu-Natal, The TOP 20 KZN brands are:
uShaka Marine World
Blue Security
Boston City Campus & Business College
Serendipity Travel
MCS Debt Recovery
1st Call Group
Defy
East Coast Radio
The Sharks
Richfield Graduate Institute of Technology
Gagasi FM
Daly Credit Corporation
FMI
Hilton Durban
Shree Property Holdings
Coastlands
Edison Power Group
Boxer Superstores
City Logistics
aQuellé
CEO Stella Khumalo said, "This is an amazing tribute and accolade for uShaka Marine World. We refer to ourselves as the African paradise as we are one of the biggest theme parks in Africa, offering a mix of sea,
fun and adventure. This goes to the 500 people at uShaka Marine World who do all the work to remain and to grow from being good to being great."
---