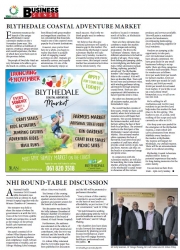 NHI Round-Table Discussion
NHI Round-Table Discussion A National Health Insurance (NHI) roundtable discussion was recently held at Ahmed Al-Kadi Private Hospital together with the Minara Chamber of Commerce.
The initiative was held to share the status of where the government is at with the NHI, views of the NHI from a public health care perspective, as well as the impact on the private health care businesses and private practices.
The panel consisted of Dr Anban Pillay (deputy director general for health regulation and compliance: South African Department of Health), and Dr Tebogo Phaleng (chief strategic officer: Discovery Health).
The format of the evening was the presentations by both speakers and an interactive question and answer session for the benefit of the audience.
The discussion was chaired by Mr Solly Suleman (President of Minara Chamber of Commerce and chairman of the board of Ahmed Al-Kadi Private Hospital).
Furthermore, the audience was educated on the effects of the NHI on private medical aid contributors, why the NHI was initiated and the benefit of the NHI to the underprivileged.
Dr Anban Pillay reiterated that the NHI white paper has been published for discussion and the bill will be presented to parliament thereafter.
"Every citizen of this country is entitled to access health care on the basis of need and not affordability as per Section 27 of our constitution," said Dr Pillay.
"We look forward to working and collaborating with the NHI to provide healthcare services to all South Africans," said Dr Tebogo Phaleng.
The Chamber does have plans to take forward this important discussion by planning several focused workshops at a later date that will engage business, healthcare professionals and the public.
www.health.gov.za/index.php/nhi