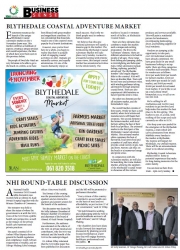 Blythedale Coastal Adventure Market
Excitement mounts as the launch of the unique Blythedale Coastal Adventure Market on the 4 November draws near. This market combines a multitude of aspects; creating a unique product and overall experience, the likes of which have never been seen in this province before.
The people of KwaZulu-Natal are very fortunate to be able to go to the beach on a whim, as we have been blessed with great weather and magnificent coastlines. It's not coincidental that KwaZulu-Natal is one of the country's most popular local tourist destinations.
However, once you've lived here for a while, you begin to realise that there is actually a lack of engaging coastal activities on offer. Humans are naturally curious, and equally adventurous. It's one of the reasons humanity enjoys so much success. That's why we think people need to embrace human nature.
We believe that this epic weekend adventure will satisfy a massive gap in the market. The forthcoming Blythedale Coastal Adventure Market will take place every Sunday. Located in a beautiful setting with pristine ocean views, this unique coastal market has sensational activities for the whole family. The market is located 15 minutes north of Ballito, at Blythedale Coastal Estate.
There are three elements that combine to make this market such a unique and exciting proposition. The first is the 'Adventure' element. There are different adventures to be had for people of all ages. These range from fishing and jumping castles, to microlighting and helicopter rides. Other adventures include fishing, ziplining, paintball, airsoft and 'The Blythedale Bomber' (the longest slippery slide in the country).
Kids will have an absolute blast. There will be trail runs and adventure rides, with winding pathways taking adventurers through untamed coastal forest. There are also experienced child minders on hand if parents need to relax.
The other two elements are the all-inclusive market, and the homemakers' expo.
The overall market consists of three parts. Firstly we have a craft market, where local artists and manufacturers will flaunt their creations. The second element is the farmers market, with local farmers selling the best of their fresh local produce. The artisanal market is the third part of the Blythedale Coastal Adventure Market. This artisanal market offers customers the best of flavourful, local street food and a number of craft bars, which provide a wide variety of gin, rum and beers. Patrons can relax on the beach or at numerous lounge and picnic areas.
In conjunction with the Adventure Market, we will also be launching the Home Makers Market, allowing the suppliers of the Blythedale Coastal Estate to showcase all the various products and services available.
This will paint a residential picture for landowners, encompassing landscaping, décor, and building supplies for local residents.
Vendors are jumping at the opportunity to take part; over 100 individual vendors have already committed. We have great deals for any small businesses looking to set up stalls. There are three categories of market stalls available. Prices for vendors are as follows: R150 per week/R500 per month for farmers market, R250 per week/R800 per month for craft market, and R400 per week/R1400 per month for artisanal food market. If you'd like to set up a stall, please email
bron@elan.co.za
, or call us on 061 820 3518.
We're calling for all Durbanites and North Coast residents to get involved and help make this market the best place to be this spring. This market is one-of-a-kind, with nothing of this scope and scale currently on offer in KZN.
Also keep your eyes peeled for the emergence of the Blythedale Express, a train which will carry adventurers from Moses Mabhida every Sunday to the market at Blythedale. The Express will depart for Blythedale, via Umhlali Station.
There will be an announcement closer to its official unveiling.
Blythedale Coastal Adventure Market will be home to potential experiences that make for long-lasting memories for the entire family.
You can meet us there from 10am - 4pm every Sunday.