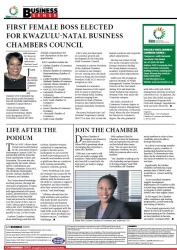 Judith Nzimande - First female boss elected for KwaZulu-Natal Business Chambers Council
Judith Nzimande, the Chairperson of the KwaZulu-Natal Business Chambers Council
Judith Nzimande, the current Zululand Chamber of Commerce and Industry (ZCCI) president has been elected as the first female boss for KwaZulu-Natal Business Chambers Council (KBCC).
MEC of Economic Development, Tourism and Environmental Affairs and Chairperson of KZN Economic Council, Mr Sihle Zikalala congratulated the new chairperson on her new appointment.
KBCC members include the:
Durban Chamber of Commerce & Industry
Minara Chamber of Commerce, Pietermaritzburg Chamber of Business
iLembe Chamber of Commerce, Zululand Chamber of Commerce
National African Chamber of Commerce (NAFCOC)
NAFCOC KZN (Youth)
Ladysmith Chamber of Commerce
Kokstad Chamber of Commerce
KZN Youth Chamber of Commerce
FABCOS
Escort Chamber of Commerce & Industry
Newcastle Chamber of Commerce
South Coast Chamber
KBCC also provides input on economic growth and development to the KwaZulu-Natal Economic Council.
Nzimande is current President of the Zululand Chamber of Commerce and Industry (ZCCI). During 2014, she made history as being the first female President of the ZCCI since its inception in 1926.
Nzimande is a seasoned Human Resources (HR) expert with 24 years of experience in HR related fields, holding positions ranging from generalist to head of human resources and transformation at Mondi Shanduka Newsprint (MSN).
She joined Richards Bay Coal Terminal Proprietary Limited (RBCT) in June 2010 to lead the human resources and corporate affairs departments.
She has now joined Group Five as the Executive Director Human Resources leading the Group human resources, academy, transformation and corporate affairs departments.
Judith won the prestigious national Institute of People Management Human Resources Director of the Year award during 2015 and KwaZulu-Natal: Richards Bay Business Woman of the Year under the Corporate category.
She holds a Bachelor of Commerce Honours degree in Human Resource Management with the University of KwaZulu-Natal, where she also obtained her Masters in Commerce degree. She also graduated with MBA with Jack Welch Management Institute at Strayer University (US). In addition, she has done the lobal Executive Development Program with GIBS and Strategic Negotiations with Harvard University.
Enquiries:
Thabani Shale - CEO of Zululand Chamber of Commerce and Industry
C: 083 521 6335