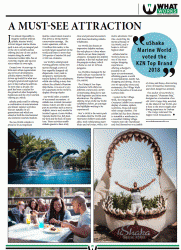 uShaka Marine World Voted The KZN Top Brand 2018
A MUST-SEE ATTRACTION
It is almost impossible to imagine Durban without uShaka Marine World. Africa's largest marine theme park is not only an integral part of the city's overall tourism offering and one of two anchor tenants along the worldrenowned Golden Mile, but an economic engine and success story within its own right.
Created over 14 years ago to kick start urban regeneration and to boost development, uShaka Marine World has driven up footfall in what was a largely ignored and neglected part of the Durban beachfront.
In more than a decade, the park has been a catalyst for the growth of other hospitality businesses and the city's tourism offering as a whole.
uShaka prides itself in offering a combination of entertainment and leisure outdoor activities that are suitable for all generations and which are aimed at both the international and domestic tourism markets. The Sea World complex is proud to be an important marine conservation resource that drives a strong marine conservation message. The iconic aquarium, with its 22 million litre tanks, is the seventh largest aquarium in the world and home to more than 300 species of marine life and 10 000 sea creatures.
Sea World's underground viewing galleries extend 500 metres through a series of four superbly designed old shipwrecks. Every tank is designed to represent the natural habitat of its inhabitants whilst also telling a story that reflects the uShaka's Phantom Ship theme. It is one of a very few aquariums in the world to display Silvertip sharks.
Sea World offers a number of sea animal encounters. At uShaka Sea Animal Encounter Island, visitors are able to take part in activities such as meet a dolphin, meet a seal, snorkel in Snorkel Lagoon, Ocean Walker, Xpanda Shark Dive, fish feed, ray feed and the back of house tour. These activities enable uShaka guests to have truly close and personal encounters with these fascinating uShaka inhabitants.
Sea World also boasts an impressive dolphin stadium, the only place in Africa where visitors can see these majestic creatures. Alongside the dolphin stadium, is the seal stadium and the penguin rockery, which is home to over 63 African penguins.
Sea World is managed by the South African Association for Marine Biological Research (SAAMBR).
The Chimp & Zee Rope Adventure Park offers two different courses and a series of interesting obstacles to suit both beginners and those more adventurous. The ziplines, offering views of the Sea World exhibitions below, are amongst the highlights waiting to be experienced!
Wet 'n Wild is the water park of uShaka Marine World, and entertains children and adults alike, with exhilarating water slides and raft rides, with a 450 metre adventure river ride, encircling the mystical beauty of Sea World, and is home to Africa's highest slide!
uShaka Marine World is home to one of the most unique shopping experiences, offering a shopper's paradise in an open-air environment, affording guests a world of entertainment, family fun, shopping and dining. Host to over 80 speciality stores and restaurants, the Village Walk is a firm favourite of locals and tourists alike.
Located in the Village Walk, the Dangerous Creatures Exhibit is an unusual display of snakes, spiders, scorpions, frogs and many other creepy crawlies. The exhibit hall has been themed to resemble a warehouse in a Zanzibari fishing village.
Visitors enter the 'warehouse' and find themselves in a jumble of crates and boxes, discovering a host of beautiful, interesting and often dangerous animals. The anchor of Sea World is the majestic "Phantom Ship," designed as a recreation of an old 1920's Cargo Ship, wrecked on the Island of Sea World, and is host to the most sought-after dining experience in Durban - The Cargo Hold and The Supper Deck Restaurants.
www.ushakamarineworld.co.za