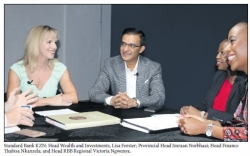 Promoting The Visibility Of KZN Brands
The KZN Top Business is a unique content marketing company that creates and distributes relevant information about businesses through a range of communication channels: digital, social, video, print etc.
Publisher Grant Adlam says, "We assist in promoting visibility of brands, including driving relationships and improving client retention through targeted campaigns."
The KZN Top business website
www.topbusiness.co.za
is comprehensive and well ranked and has been used to promote KwaZulu-Natal's economy for over twenty years.
"In 2019, apart from the printed KZN Top Business Portfolio, we will again publish a separate KwaZulu-Natal Leaders' Portfolio profiling our provinces' business leaders. This information will also be available on our website
www.kznleaders.co.za
," said Adlam.
KZN Top Business is excited to expand its multimedia features. Following the successful launch of the KZN Leaders' video interview series, this offering will now include KZN brand DNA stories.
Through the power of video content, businesses can build an engaged community by telling their brand story. The province of KwaZulu-Natal has produced some of South Africa's most famous home-grown rands that have stories we can all be proud of - and would like to hear. KZN brand representatives will be interviewed on camera in a studio setting and an edited video clip produced. The KZN Brand DNA stories will also be featured in a limited-edition coffee table book.
KZN Top Business is currently building a YouTube channel that will host the growing video library.
Standard Bank KZN Top Business Awards
In order to further promote business in the province, the annual Standard Bank KZN Top Business Awards provide a showcase for success. The Awards focus on organisations' and companies' successes in relationship to the economic, environmental and social spheres in KwaZulu-Natal in both the public and private sectors.
The range of industry sector awards on offer highlight the achievements of leading businesses across key industry sectors. To be eligible for a category award, entrants need to demonstrate how their companies have embraced the core values of business excellence, sustainability and responsibility, which are principles in line with Kings IV.
Entries for the 12th KwaZulu-Natal Top Business Awards are now open and will close on the 31 May 2019.
For more information on all categories and their entry requirements visit:
www.kzntopbusiness.co.za
The Standard Bank KZN Top Business Awards 2019 Gala Dinner will be held on 13 June at the Southern Sun Elangeni & Maharani.
For more information visit
www.topbusiness.co.za
or contact Tracy.
T: 031 701 1445
E:
tracy@topbusiness.co.za