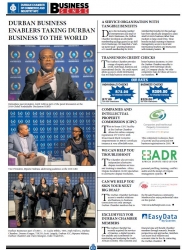 Durban Chamber - Durban Business Enables Taking Durban Business To The World
A SERVICE ORGANISATION WITH TANGIBLE BENEFITS
Due to the increasing number of entrepreneurs and small or micro businesses, the Durban Chamber developed an affordable membership package geared to up-skill micro businesses. We launched a "startup
starter pack" granting businesses a 12-month membership for R599.
Membership benefits for this package have been specifically designed to assist small or micro business rather than medium to large-sized firms. These benefits include training in business management, access to local and international markets and interaction with industry leaders.
TRANSUNION CREDIT CHECKS
The Durban Chamber provides a range of reports such as credit, Individual, business and International checks. The credit report allows access to credit information that will help business owners make better business decisions. In 2018 the Durban Chamber was able to conduct 1058 Individual checks and 22 Company checks. We offer competitive rates for these services to our members.
COMPANIES AND INTELLECTUAL PROPERTY COMMISSION (CIPC)
This in-house CIPC Facility at the Durban Chamber allows for online company registration (PTY/NPC) with
Broad-Based Black Economic Empowerment (B-BBEE) Certificate issuance at very affordable rates. This component is always a buzz of activity and has attracted 608 business registrations in 2018.
WE CAN HELP YOU TROUBLESHOOT
The Chamber also provides independent alternative dispute resolution services and training to members. Africa Dispute Resolution (ADR) specialises in alternative dispute resolution, personal profiling, training, conflict audits and the design of Dispute Management systems.
CAN WE HELP YOU SIGN YOUR NEXT BIG DEAL?
The Durban Chamber facilitates access to market solutions and business-to-business connections not only amongst Durban Chamber members but to the broader business community. Members also enjoy preferential rates on this portal. Visit
www.durbanprocure.co.za
.
EXCLUSIVELY FOR DURBAN CHAMBER MEMBERS
The Durban Chamber has recently acquired the services of Quantec, a digital resource (for analysts and economists) for monitoring and analysing the South African economy. This economic and financial data will benefit Chamber members through research, broader perspectives and approaches. Members can access local industry and economic data for free by contacting the Durban Chamber.