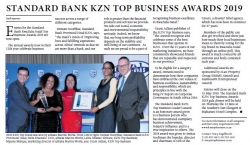 Standard Bank KZN Top Business Awards 2019
Entries for the Standard Bank KwaZulu-Natal Top Business Awards 2019 are now open.
The annual awards now in their 12th year celebrate business success across a range of different categories.
Imraan Noorbhai, Standard Bank Provincial Head KZN, says, "The Bank's vision of 'Improving lives and fulfilling aspirations across Africa' reminds us that we are more than a bank, and our role is greater than the financial products and services we provide.
We take our social, economic and environmental responsibility seriously. Indeed, we know that our long-term profitability depends on the stability and well-being of our continent. As such we are proud to be a part of recognising business excellence in KwaZulu-Natal."
Grant Adlam publisher of the KZN Top Business says, "The Awards recognise and celebrate some of the best businesses that operate in KZN. Over the 21 years of our marketing initiatives, we have consistently showcased brands that are reputable and respected in our province."
To be eligible for a category award, entrants need to demonstrate how their companies have embraced the core values of business excellence, sustainability and responsibility, which are principles in line with the
King IV Report on Corporate Governance in South Africa 2016.
The Standard Bank KZN Top Business Leader's award is an honorary award given to a business person who has demonstrated exemplary business achievement, industry influence and is a true inspiration to others. The 2018 award was given to Imtiaz Sooliman the founder, director and chairman of Gift of the Givers, a disaster relief agency, which has now been in existence for 27 years.
Members of the public can also get involved and show just how much their local businesses mean to them by voting for the top brand in KwaZulu-Natal through an online poll. This award is much coveted by all entrants and hotly contested each year.
Additional awards are sponsored by eLan Property Group (SMME Award) and BusinessFit (Entrepreneur
Award).
Entries will close on the 15 May 2019. The Standard Bank KZN Top Business Awards 2019 gala dinner will be held on Thursday the 13 June at the Southern Sun Elangeni & Maharani Hotel Complex.
For more information on all categories and their entry requirements visit:
www.kzntopbusiness.co.za
Contact: Tracy Engelbrecht
T: 031 823 1445 / 031 701 1445
E:
tracy@topbusiness.co.za