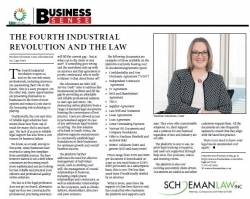 Nicolene Schoeman-Louw - The Fourth Industrial Revolution and The Law
Nicolene Schoeman-Louw, SchoemanLaw Inc, Cape Town
The Fourth Industrial Revolution is upon us, and on the one side many professionals, including attorneys
are questioning their role in the future. This is a scary prospect. On the other side, many opportunities are presenting themselves to businesses in the form of more options and reduced costs due to the increasing role technology is playing.
Traditionally, the cost and time of reliable legal solutions have meant these have been out of reach for many SMEs and startups. The lack of access to reliable legal support has also been a core reason for business failure.
We know, as a result, and up to this point, many businesses have resorted to using free templates from unreliable sources. We have however started to see a shift where consumers are becoming much more sophisticated and are looking for fast, reliable and practical (cost effective and professional quality) online solutions.
The fact is if the legal profession does not get on-board, alternative legal services not constructed by professional, practising attorneys will fill the current gap â€" but at what cost to the client or end user? If something goes wrong and the user/client ends up with an attorney and that agreement is poorly constructed, who is really to blame? Is that client better off?
The SchoemanLaw SME Self-Service Deskâ"¢ aims to address this fundamental problem and fill the gap by providing an affordable and reliable professional solution to start-ups and SMEs. The pioneering online platform hosts a range of standard legal documents forming the cornerstones of best practice. Users are allowed access to personalised support in case of any unforeseen legal incident occurring. The first solution of its kind in South Africa, the platform supports entrepreneurs to conclusively establish legal foundations in their businesses for optimum growth and overall business success.
The platform further addresses the need for effective management of individual needs, such as drafting your will, the management of crucial relationships in business, including employment relationships and contractors, as well as stakeholder relationships in the ecosystem, such as clients, debtors, shareholders, directors and joint ventures.
The following documents are examples of those available on the platform (currently hosting over 35 documents/agreement types):
Confidentiality and Non-Disclosure Agreement ("NDA")
Independent Contractor Agreement
JV Agreement
MOI and Shareholders' Agreement
T&Cs
Supplier Agreement
Last Will and Testament
Lease Agreements
Loan Agreement
Letter Demanding Payment
Various HR Documents and Company Resolutions
Offer to Purchase (freehold and sectional title)
BBBEE Affidavits (EME and generic QSE) and many more!
Prices range from R195 and R895 per document if downloaded on a pay-as-you-need-basis or R249 / R495 per month on a subscription basis, this is over 75% less than usual rates if traditionally drafted by an attorney.
What is more, users have the support of a law firm that not only has created but who maintains the platform and supports each user. They even offer customisable solutions. So, their support and a solution for any business' regardless of size and industry are on offer.
The platform is easy to use, no prior legal training is required, and users are supported through help texts, free podcasts, videos and training events.
The platform is also ever evolving and entirely client-driven. Documents are added as and when customers request them. All the documents are also frequently updated to ensure that they align with the latest best practice. There is no need to leave your legal needs unattended ever again!
Empower your business today, go to
https://www.schoemanlaw.co.za/onlinelegal-services/
T: 021 425 5604
W:
www.schoemanlaw.co.za