Gary Geddes - Life is not always easy, and work challenges are inevitable, but the willingness to dig deep and not give up is vital for any kind of success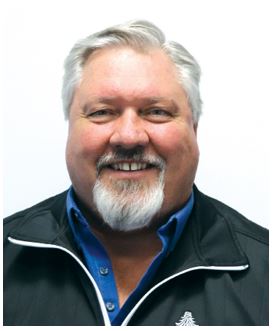 GARY GEDDES position as general manager at Durban Country Club is more than just a job; he's following his passion. A quantity surveyor by profession, Gary has always been involved in golf. And after 35 years of playing the sport, he was golf captain and chairman of his club on the West Rand in Gauteng, a role his relished in his leisure time. But the club needed a strong general manager, and when challenges arose, he was asked to manage the entire club on a full-time basis.
Never one to shy away from a challenge, Gary moved out of the built environment and into club management, turning his passion into a full-time occupation. He did this for six years before moving to KwaZulu-Natal to take up his current position as general manager at the Durban Country Club.
"Durban Country Club is the Grand Old Lady," says Gary. "It is a remarkable facility and has a significant history." He relates that, arriving at work one morning, he watched delegates arrive for a corporate conference at the Club. As they came in, they were pointing out features and taking photos, clearly impressed by their surroundings. "It's an outstanding club and it really used to be the place where everyone wanted to be. It's time to get back to that."
Asked what drives him, Gary points out that golf clubs are not an easy product to manage, because there are so many facets that make up the club. "But I'm passionate about what I do, about golf, and about Durban Country Club in particular. I enjoy bringing all those elements together to make it happen, to build a successful club."
Gary strongly believes that staff are critical to the success of any organisation, and particularly so in the hospitality industry. "Staff are the vital key to keeping the customer happy. We have a staff of 148, and it's my job to motivate them, to get them to do what they're trained to do and keep them engaged and enthusiastic. Then we can, as a whole, provide value to each and every one of our members. Because, after all, Durban Country Club is all about the members. It's their entertainment, their free time," says Gary, "and we need to ensure that we make their lives more enjoyable."
Gary attributes his success to three things: honesty, integrity and hard work. "I'm also a good listener, which is useful in club management. Members often have strong opinions about the club, and I listen to what they have to say. I may not be able to give them what they ask for, but their input gives me insight into what matters to our members."
At the moment, Gary believes that there is work to be done on the golf section, but he's confident that the food and beverage side of the club is of a high standard, noting their executive chef is particularly good.
As Durban Country Club heads towards its centenary, Gary's vision is to celebrate this milestone from a position of strength. "We aim to build the club up again, to regain its rightful place in Durban society, providing the best leisure experience for our members."
In addition to his role at the Durban Country Club, Gary is also chairman of the Club Management Association of Southern Africa. He is enormously proud of the work the association does, particularly in the education of people wanting to work in the industry.
There are several training programmes, including the prestigious Certified Club Manager programme, which he believes offers enormous value in building the careers of young or inexperienced club managers.
When asked about his philosophy for success, Gary smiles and announces that his motto stems from his junior school days: Persevere and Succeed. This mantra was emblazoned on his school blazer and school bag, and on his memory. "Life is not always easy, and work challenges are inevitable, but the willingness to dig deep and not give up is vital for any kind of success."
Gary admits that it's not always easy to disconnect from work, but he has recently taken up walking and finds that walking along the Umhlanga Promenade gives him time to clear his head. He's always loved sport and while he doesn't play much anymore, he's a keen sports fan. He also prioritises his family life.
"I have no doubt whatsoever that success is about the whole, and not just about work. And a successful family life helps bring happiness to many aspects of your life, and it's important to nurture that."