Mike Saunders - Driven by the desire to give back to society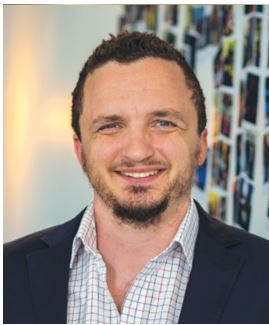 MIKE SAUNDERS is not only a Durbanite, but the founder and CEO of DigitLab - a digital marketing agency.
Saunders, described as a serial entrepreneur and a celebrated business author, was previously voted as one of the Top 20 people to follow on Twitter in South Africa. He says, "It is amazing what you can do when someone believes in you."
He explained that he has always been driven by the desire to give back to society and enjoys focusing his attention on where he can have purpose. He strives to put something into the system and add value rather than operating from a position of gain, as he believes chasing money is not sufficient.
Saunders said that DigitLab was founded because technology was growing in such a way that it could connect and add value in people's lives. "We wanted to start a business that would allow brands, businesses and people connect with people. We help our clients get closer to their customers."
"We have slowly but surely developed this digital lab agency, which provides services in mobile apps, social media, digital research, strategy and creative campaigning - everything that you can think of in the social space."
Of his position as CEO, Saunders says that he is a big picture strategist, who has surrounded himself with a creative team that can effectively implement marketing campaigns. He added that the team at DigitLab is committed to providing great services to their clients.
"When you see what they come up with, what they put on the table and what comes from that, it is mind blowing. It's incredibly inspirational to work with such a talented team."
This internal culture of putting people first is underpinned by helping people to win in the business arena. Saunders says, "In every situation that we are in we ask, "How do we help people win?". This has held us in the right space. The word helping keeps us humble and suggests that we are trying to add value." He explained that through this approach, the team did not focus on themselves but on the client. He said, "If we can help people win, then they love us."
Clients have included: Beiersdorf, The City Lodge Hotel Group, Huawei, KPMG, Growthpoint, The Unlimited, Bidvest and Blue Security.
Consequently, DigitLab, is not only an award-winning digital marketing agency, but has built a culture where people feel valued and the strong work / family ethos has become a competitive advantage.
Apart from its marketing services, the DigitLab Academy provides training in digital skill sets to marketers and executives. Another platform is Digital Swarm, which are events that allow industry leaders to share their ideas and knowledge.
Working in the social marketing sphere, the big question that people frequently ask is, "If you have a business, how can you put yourself out there?" says Saunders.
He says that research is key to the solution. Any social media strategy should have meaningful high-quality content and a consistent presence, rather than tons of quantity. "We need to create something attractive enough with which people will want to engage."
He added that building on success is imperative, and that one can never stop building. "I am positively driven by the idea of progress. I am inspired by the growth of the agency, I am inspired by new opportunities that grow out of the business as well as the new opportunities in digital technology. I wake up every day and ask where are we headed? Are we on the right road and are we making steps towards our goals and plans and our vision. Saunders commented that we learn by pushing barriers and that failure is often the stepping stone that gets us to the success part.
Therefore, there is no surprise that the first chapter of his recently published book, 'The Five Year Mark' looks at risk. The book is Saunders' collection of personal stories and lessons, which aims to encourage entrepreneurs on their journeys. The Five Year Mark's content includes vision, leadership, operations, personal development, culture and more. Saunders believes that entrepreneurs are the solution to many of the problems that South Africa faces and that they need support to get things done. He says that his utopian dream is that his life and journey would be one that encourages entrepreneurship.
However, he believes that Durban is entrepreneur friendly and that many successful entrepreneurs are very quiet and "not putting it out there". "We want to hear their stories," he added.
Saunders stressed that we need to shift our view of life, as while wealth and success is often an end goal, having purpose is what gives our lives significance and through which we can retire happily.
Saunders is a family man, who enjoys having opportunities on the weekends to stop and take things easy, where he can go for a walk on the beach.