Vikash Narsai - I believe that we can make a difference by always looking ahead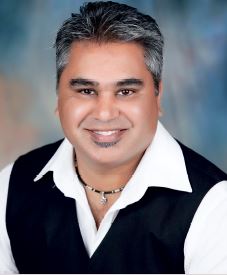 Founder and Chief Executive Officer at VNA
Vikash Narsai career has been driven by hardwork and diligence, which he says has made him unstoppable.
Narsai qualified in 1993 as a quantity surveyor with a Diploma in Engineering from ML Sultan University of Technology.
After the completion of his studies, Narsai was unable to obtain a job. In order to make a living, he started to sell children's books, going door to door as a wholesale salesman. This endeavour, he said, was "very tough". At the same time he continued to send his CV to recruitment companies and in 1995 was eventually successful in obtaining a job, albeit in Richards Bay.
His promise of accommodation turned out to be a caravan in a caravan park, but in his typical spirit, he decided to make the best of the situation, consider himself to be 'camping', and focus on his career.
On the last day of his three month probation period, he crashed his boss's car and thought that his fledgling career was over. However, he was relieved when he was kept on by the company. His strong work ethos soon saw him being promoted to a position in Vryheid, where he worked on a variety of contracts.
Narsai's ability to adapt gave him the edge over his peers. By 1996, he was appointed as the chief buyer for the KwaZulu-Natal Province and was based in Ulundi. He spent two years working on projects in a number of rural communities, which he said involved a lot of travel. Narsai commented, "I was hungry to learn and prepared to take risks to push myself in order to gain more experience."
In 1998, he married and simultaneously found himself posted to a position in Johannesburg, which caused him to do a lot of commuting. After requesting that he be relocated to KwaZulu-Natal, he was transferred to Kokstad in 1999, where he worked on a joint venture project for the Department of Public Works. This contract was to become a turning point in his professional life.
Transparency, fairness and due diligence have always been the ethics by which he has undertaken work. His role required the preparation of cost reports for the Kokstad project and he was held in high regard by the stakeholders involved by continually 'going beyond his job'.
This approach to his profession culminated in him wanting greater control of the decision making process and consequently opening his own consultancy. "Many contractors lack experience and good management skills. My extensive knowledge of building sites earned me respect, however I had four tough years, while constantly having to look for the next project."
Although he was often challenged in the early years, he was determined to maintain his industry reputation by sticking to his principles. He says he felt strongly about his company's role in the industry. Narsai explained, "I am a credible brand and I add value to the industry, I want to make a difference. I am not prepared to sell my soul to please others."
VNA involvement in projects for the Department of the Transport and the Premiers Office enabled him to obtain recognition for the ability to complete projects in time and within budget as well as with adherence to high standards. After repairs to a bridge were completed, following storm damage, he was complimented for "a job well done" by national government officials. However, he said success is also seen as a threat by competitors, which caused his business to flounder and in 2005, he was at brink of closure.
Narsai commented, "KwaZulu-Natal is a difficult province to work in. If you want to prove yourself in business than KZN is the market. It is politically volatile, competition is rife and in order to survive you have to be resourceful, as you cannot afford to be complacent."
However, he was motivated to make his mark and his breakthrough occurred in undertaking rural roads assessments as a consultant. Since then, VNA has grown from strength to strength and is known as an industry expert in this field. The road survey vehicles currently used have highly sophisticated and innovative technology, which provide the edge over their competitors.
Infrastructure development in rural communities also provided offered much opportunity to grow. One of VNA's flaship projects is in uMzimkhulu. Narsai said, "We have built the town, which has now put us on the map. We are not in business for today only and I believe that we can make a difference by always looking ahead and understanding rural concerns. We are proudly South African and can compete with the big names in the industry."
VNA is now a multidisciplinary practice and employs 296 people. The company's geographic footprint encompasses a head office located in Durban, an additional five branches and two satellite operations, three of which are in KwaZulu-Natal, whilst its other local offices are located in Gauteng, the Free State and the Western Cape. In addition to its local business network, VNA's Mauritius office provides the enterprise with a presence within the international market.
"We have become built environment specialists, with much in house expertise and understanding of the market. VNA specialises in project management as a one stop shop. In addition, we assist entrepreneurs that play in this space by capacitating them through giving them aspects of the projects to design. In this way we can participate in radical economic transformation."
"On reflection, although at times my career has been tough, it has been worthwhile. Whenever, I have been at my lowest, there has been a turnaround. I believed that by adding value though hardwork, diligence and integrity, we would be unstoppable, and that money will work for us."