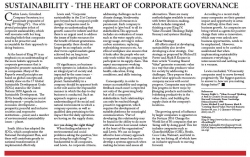 Cathie Lewis - Grindrod : Sustainability - The Heart of Corporate Governance
Cathie Lewis, Grindrod Company Secretary, is a passionate proponent of King IVâ"¢ (King IV). One of its pivotal principles is that of corporate sustainability, which well resonates with her long standing beliefs that companies need to be proactive and accountable for their approach to doing business.
At the heart of King IV is an emphasis on an understanding of the more holistic approach to corporate governance that is required to promote sustainability in companies. Many of the Report's overall principles are based on global concepts and notably draw on the 17 Global Sustainable Development Goals (SDGs) stated in the United Nations 2030 Agenda on Sustainable Development. The SDGs broadly encompass social development - people; inclusive economic development - prosperity; peaceful and inclusive societies and responsive institutions - peace; and a number of environmental sustainability issues - planet.
South Africa has adopted the SDGs, which complement the National Development Plan, and these will contribute greatly to national transformation if implemented effectively. Lewis said, "Corporate sustainability in the 21st Century goes beyond each company's profit margin. Companies need to develop an understanding that growth cannot be infinite and that there is an urgent need to address the issues of finite resources for the benefit of future generations. Consequently, there should no longer be an emphasis on the short term capital markets gains achieved but on long term sustainable capital markets."
Of significance, no business entity operates in isolation, but is an integral part of society and impacted by the same issues - people, prosperity, peace and planet. Sustainability in a company should be apparent both in the role and in the responsible manner in which the day-to-day business is conducted. Such an approach requires a good understanding of the social and natural environment in which a company operates, as well as qualified data pertaining to the impact that the daily operations are having on the supply chain.
Are you doing the right thing?
When finding solutions to environmental and social problems asking the question,"Are you doing the right thing?" is fundamental to all companies, said Lewis. As corporate citizens, addressing challenges such as climate change, biodiversity, exploitation of resources is paramount. Each company is required to 'give back' to all its stakeholders.This approach includes an evaluation of issues such as the water supply crisis, energy usage, striving to reduce carbon emissions, replacing replenishing resources etc. An ethical workplace also ensures that it looks after the people who not only work within the company but participate in its supply chain. This aspect encompasses working conditions, equity, profit share, health, education, living conditions, and skills training.
Consequently, in order to ensure accountability and ongoing feedback much more is expected not only of the governing body but of all a company's stakeholders. Such relationships can only be reached though proactive engagement, which requires the development of suitable platforms for meaningful communication. "Part of developing this relationship may be found in the ability to do more with less and to have sound values at the heart of the organisation," said Lewis. We can no longer afford to have a binary approach to important issues but need to develop a systems approach when making decisions and assess all alternatives. There are many methodologies available to assist with better decision-making, which includes integrated thinking as per King IV, Value-Focused Thinking (Ralph Keeney) and systems thinking.
A Clear Strategy
All efforts aimed at developing sustainability also involve developing a clear strategy. One strategy, as proposed by Michael E Porter and Mark R Kramer in their article "Creating Shared Value" generates economic value in a way that also produces value for society by addressing its challenges. They propose that a shared value approach reconnects company success with social progress. Companies may achieve this progress in three ways: by changing products and markets, redefining productivity in the value chain, and building the supply chain at the company's locations.
The growing spread of influence by larger companies is apparent on the Fortune 2016 Change the World list of 50 companies that are 'doing well by doing good'. This list includes companies such as GlaxoSmithKline (GSK), Nestle, Coca Cola, Walmart, and Intel in its top ten listing, all of which have an inclusive approach to moving forward.
According to a recent study many companies see their greatest impact and opportunity in areas that will help drive their own business growth. As companies are being viewed as agents for positive change their roles as innovators, which may even unlock new business opportunities, needs to be emphasised. However, companies need to be careful to understand that when implementing sustainability measures everything is interconnected and nothing works in a vacuum.
Lewis concluded, "Of necessity companies need to move forward progressively. The biggest question to answer is, how are you making things better?"
References
Keeney, Ralph L., "Value-Focused Thinking A Path to Creative Decisionmaking" Harvard University Press Cambridge (Massachusetts) 1998
Porter, Michael E. and Kramer, Mark R. "Creating Shared Value."Harvard Business Review 89, nos. 1-2 (January-February 2011): 62-77.
Websites
King IV http://
www.iodsa.co.za/?page=AboutKingIV
Global Sustainable Development Goals (SDGs)
https://sustainabledevelopment.un.org/