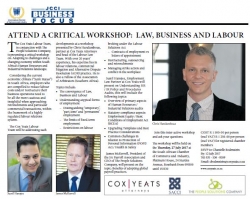 Attend a Critical Workshop : Law, Business And Labour - Cox Yeats
The Cox Yeats Labour Team, in conjunction with The People Solutions Company, is presenting a critical workshop on: Adapting to challenges and a changing economy within South Africa's Human Resources and Industrial Relations landscape.
Considering the current economic climate ("Junk Status") in South Africa, employers who are compelled to reduce labour costs and/or restructure their business operations need to be all the more cautious and insightful when approaching retrenchments and particular commercial transactions, within the framework of a highly regulated labour relations system.
The Cox Yeats Labour Team will be addressing such developments at a workshop presented by Chris Haralambous, partner at Cox Yeats Attorneys and head of the Labour Law Team. With over 20 years' experience, his expertise lies in labour relations, commercial litigation and Alternative Dispute Resolution (ADR) practice. He is also a Fellow of the Association of Arbitrators (Southern Africa).
Topics include:
• The convergence of Law, Business and Labour
• Understanding atypical forms of employment
-- Distinguishing 'temporary', 'part-time' and 'permanent' employment
-- The limits of fixed-term employment
-- Restrictions on labour broking under the Labour Relations Act
-- Contracts of employment vs letters of appointment
• Restructuring, outsourcing and retrenchments
• Managing strike action and conflict in the workplace
Sunil Hansjee, Employment Law Partner at Cox Yeats will present on Understanding HR / IR Policy and Procedures Audits, this will include the following topics:
• Overview of primary aspects of Human Resources / Industrial Relations audits
• Statutory compliance aspects: Employment Equity / Basic Conditions of Employment Act (BCEA)
• Upgrading Templates and Best Practice Considerations
• Common challenges in relation to Protection of Personal Information (POPI) Act / Health & Safety
James McKerrell, President of the SA Payroll Association and CEO of The People Solutions Company, will present on the topic: Benefits of adopting global payroll practices.
Join this inter-active workshop and ask your questions. The workshop will be held on the Thursday, 27 July 2017 at the South African Chamber of Commerce and Industry, Platinum House, 24 Sturdee Avenue, Rosebank from 09H00 until 15H30
COST R 1 500-00 per person (excl VAT)
R 1 250-00 per person (excl VAT) for registered chamber members
RSVP to: Chantelle Bodenstein By: 12 July 2017
Tel: 031 - 536 - 8559
Email:
cbodenstein@coxyeats.co.za
www.coxyeats.co.za