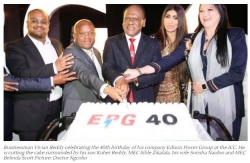 Edison Power Group celebrates 40 years of lighting up lives
DURBAN - Durban businessman Vivian Reddy's company Edison Power Group celebrated 40 years this year.
In honour of this momentous occasion, the businessman held an event at the Durban ICC to celebrate this feat.
Among the people at the event included Acting Premier of KZN Sihle Zikalala, MEC for Finance Belinda Scott and Reddy's wife S orisha Naidoo.
Reddy was one of the first speakers at the podium and recounted the story how his company began.
Accoridng to Reddy, he was working for a white-owned business and he invited of the black employees into the building were a party was being held and whiskey and lamb chops were flowing.
Due to that incident, Reddy was fired from his job. He then started his own business. Newly married Reddy, with only R500 in his pocket, a Nissan bakkie and one employee he started his electrical business.
The businessman recalled fond memories of having to push the bakkie and working from his garage. However, he noticed that he wasn't getting any jobs. He then changed the name of the business to Edison Power and the jobs started rolling in.
According to Reddy, the name of his company was taken from the creator of the light bulb Thomas Edison.
When people found out that Edison Power was being run by an Indian man, Reddy was "persecuted" and it led to his business becoming bankrupt.
The business prides hard work over everything else and used that same motto to encourage his employees. Reddy said, "Work hard and everyone will judge you by that".
Now Edison Power Group is one of the leading electrical companies in South Africa and have worked on projects like the 2010 FIFA World Cup as well as casinos, other companies and properties.
Reddy also thanked Standard Bank, the bank that the businessman has used for 39 years.
The Acting Premier of KZN Sihle Zikalala also took the stage to speak the Edison Power Group and to congratulate Vivian Reddy. Zikalala called Reddy a pioneer of the KZN and commended him on his contribution to helping the poor.

28 JULY 2018, 09:00AM
/
DHIVANA RAJGOPAUL