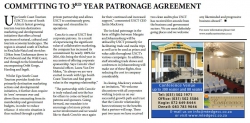 Ugu South Coast Tourism - Committing to 3rd year patronage agreement
Ugu South Coast Tourism (USCT) is one of South Africa's fastest growing tourism tourism destination marketing and developmental initiatives that offers a broad spectrum of natural, cultural and
tourism economy landscapes. The region is situated south of Durban in KwaZulu-Natal and stretches
120km from Umkomaas down to Port Edward and the Wild Coast, and through to the hinterland encompassing Oribi Gorge, Harding and Ingeli.
Whilst Ugu South Coast Tourism provides funds for primarily destination marketing actions and developmental initiatives, it further does require its 'own' revenues over and above those emanating from its membership and government budgets, in order to reduce reliance. A win-win situation is thus realised through a public private partnership and allows USCT to continuously grow, manage and streamline its
operations.
CemAir is one of USCT first corporate patrons. As a result of experiencing the significant value of collaborative marketing, the company has increased its commitment by nearly 100% for 2016, this being the third year in succession of offering corporate sponsorship. Says CemAir chief financial officer, Laura Van Der Molen, "As always we are very excited to work with Ugu South Coast Tourism and find great
value in the ongoing relationship."
"The partnership with CemAir is truly valued and sets the bar for others to come on board as patrons and sponsors. Going forward, our mandate is to encourage a lot more private sector involvement and we would like to thank CemAir once again for their continued and increased support," commented USCT CEO Justin Mackrory.
The in-kind patronage in the form of flights between Margate and Johannesburg will be utilised by USCT primarily for facilitating trade and media trips as well as to be used as prizes and value adds throughout USCT's various campaigns. In addition, staff attending trade shows and conferences in Johannesburg will make use of these flights, thus reducing the cost to company considerably.
In closing, Mackrory extends an invitation, "We welcome discussions with all corporates wishing to join us on our successful growth path and trust that the CemAir relationship bares testimony to the benefits that a partner will reap. These past two years we have received two clean audits plus USCT has received five awards from the business and government sectors. We are most definitely going places and we welcome
any likeminded and progressive business aboard".
For more information please visit
www.southcoasttourism.co.za