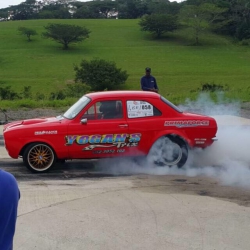 Ugu South Coast Tourism-Track bite, torque and record times at the Dezzi South Coast Raceway:Karthy Naidoo, turbocharged Ford MK1 Escort
KZN to witness the first drag racing event in the province to run on a prepared track The first 60ft of the Dezzi South Coast Raceway drag strip will be prepared with track bite for drivers competing on 6 November.
Organized by KZN Drag Racing and Gas Magazine, the event provides the optimal surface for serious competitors to attempt 8 second and 9 second passes, or to break the infamous 10 second barrier.
"Usually we have track bite on the burn out area. This is the first time that 60ft will be covered. We believe it has never been done before in KZN" said Darren Lewis, KZN Drag Racing. Organizers promise a racing field that includes new model vehicles racing alongside modified older cars. "You'll see cars like an E36 M3 powered by a 1000 horsepower Toyota 2jze, race against 800 hp Skyline GTR.
It will be thrilling!" said Prethiven Naidoo, Gas Magazine. Interest in the event has reached across the country with requests to race South Africa's record breaking vehicles at the event. "Rob Green Motorsport will be bringing their VW Golf 7R that amassed a 11 second flat run in Johannesburg.
They're hoping the track bite and sea level will help them break the 10 second barrier" said Naidoo. This is KZN Drag Racing and Gas Magazine's 5th drag racing event at Dezzi South Coast Raceway since the drag strip was complete in June of 2016.
The fastest time ever recorded at Dezzi South Coast Raceway was an 8 second pass by a purpose built rail car. The fastest time recorded for a road worthy vehicle was 9.1 seconds by NXgen. Both records were set racing without any track preparation. The event in November is sure to impress fanatics and those new to the sport. "Seeing cars drive that fast across 400m is certainly something to tick off the bucket list" said Lewis. "And if you're just looking for a fun day out, we've partnered with Dunlop Zone Tyres 2 Go to give public prize giveaways throughout the day. It's going to be action packed on and off the track" he concluded.
The event offers a family friendly day out and is run under Motor Sport South Africa's rules and regulations. On site facilities include full amenities, catering (including halal), shade and grand stands. Date: 6 November 2016 | Time: 08:30 â€" 17:30 | Venue: Dezzi South Coast Raceway, Port Shepstone. Tickets: R90 for adults, under 12 FREE, pensioners R45, grand stand tickets purchased at the venue on the day. Regret no cooler boxes, gazebos or chairs, and no pass outs. For more information visit the website:
www.kzndragracing.co.za
| Facebook: KZN Drag Racing | Twitter: @KZNDragRacing
Ends.
Submitted by: Nikki Tilley Marketing and Events Specialist
Ugu South Coast Tourism
marketing@tourismsouthcoast.co.za