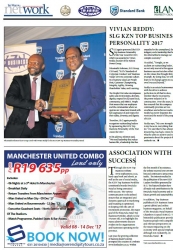 KZN Top Business Awards 2017 : Association With Success
KZN Top Business Awards 2017 : Association With Success
2017-08-10
Through the KZN Top Business website
www.topbusiness.co.za
, hard copy book and ebook, as well as the use of social media, the KZN Top Business Portfolio consistently brands KwaZulu-Natal as being associated with success. The various communication tools utilised ensure that an integrated and dynamic approach to marketing and branding is optimised.
In keeping with the aim of investment promotion, the major goal of the KwaZulu-Natal Top Business Portfolio, which is now 19 years old, is to highlight the many achievements that are evident in the organisations and businesses operating in the province.
Last year, the growing collection of business leader's stories prompted the creation of a website
www.kznleaders.co.za
. Within the first month of its existence, the website received over 200 000 hits and continues to attract much traffic. The interest resulted in the publication of the new KZN Leaders Portfolio sponsored by SLG. The featured leaders have all made real contributions to the KwaZulu-Natal economy and to its future growth and sustainability.
In addition, Top Business publishes KZN Business Sense, a print tabloid and online business magazine, on behalf of the KwaZulu-Natal Business Chambers Council (KBCC). The bimonthly publication provides business people with compelling and relevant perspectives on the issues impacting on the economy with special emphasis, although not exclusively, on KwaZulu-Natal.
Visit
www.kznchamber.co.za
---