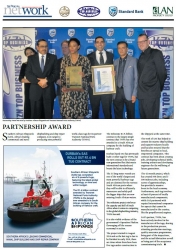 Partnership Award was won by Southern African Shipyards and Transnet National Ports Authority (TNPA)
KZN Top Business Awards 2017 : Partnership Award
2017-08-10
Southern African Shipyards (SAS), Africa's leading commercial and naval shipbuilding and ship repair company, is on target to producing nine powerful world-class tugs for its partner Transnet National Ports Authority (TNPA).

The milestone R1.9-billion contract is the largest single contract that TNPA has ever awarded to a South African company for the building of harbour craft.

Durban-based SAS has previously built 12 other tugs for TNPA, but the new contract is for a brand new generation fleet that meets international standards and boasts the latest technology.

The 31-long-metre vessels are one of the world's largest and most powerful harbour tugs and are destined for the various South African ports where they will be able to efficiently manoeuvre and safely pull the bigger ships that are now entering South African waters.

The milestone project reinforces the capacity and skill of South Africa when it comes to competing in the global shipbuilding industry, TNPA has said.

It is also visible evidence of the government's Operation Phakisa (leveraging off the oceans economy) in action.

The project started in August 2014 and as the last tug is due to be finished in early 2018, there are times when there have been five tugs under construction in the shipyard at the same time.

The work of SAS has helped to cement the marine ship building and support industry locally and has also ensured that the benefits are spread to local, empowered companies. This contract has been about creating jobs, developing technical skills, training artisans and developing engineers for the wellbeing of future generations.

The 42-month project, which has created 500 direct and 3 500 indirect jobs, including scores of apprenticeships, has provided a massive boost to the local economy.

Furthermore, each tug involves at least 60 percent of locally manufactured components, while SAS partnered with reputed international companies for aspects that cannot be manufactured in the country, like the propellers and engines.

SAS's partner, TNPA, has been actively involved in the manufacture of the tugs, sharing in the production process, attending production meetings, quality assurance programmes, being part of the inspections, and the actual fabrication as well as being part of the acceptance commissioning trials.
---