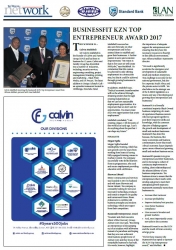 Calvin Mathibeli receiving the Businessfit KZN Top Entrepreneur Award from Akhona Mahlati, pictured with Sma Mathibeli
THE WINNER IS ...Calvin Mathibeli
Mr Calvin Mathibeli is the founder of Calvin and Family Group (CFG) and has been in business for 12 years. Calvin and Family Group has diversified into a number of industries, including, security services, engineering consulting, project management, branding, printing and marketing - Black Pride Media, and SA Precast. The latest addition is Unique Lifestyle Café - an upmarket restaurant located in Umhlanga, KwaZulu-Natal.
Mathibeli's success has also seen him take on other entrepreneurs and he has assisted them to establish and grow their businesses. A further passion is socio and economic empowerment. "My vision is that in five years we will create 5000 jobs," says Mathibeli. He commented that this cannot be achieved by only offering employment on construction sites, but that it could be achieved through growing businesses in township areas.
In addition, Mathibeli says, "Radical economic transformation will not be achieved through obtaining tenders but through creating industrialists so that we can have sustainable employment opportunities. It is important that we don't wait for opportunities. You must create your own opportunities that create employment."
Mathibeli concluded, "I am creating a legacy. I felt the pains of this world at an early age. I can't do anything about the past but I can shape my future."
FINALISTS
Megan Ngiba
Megan Ngiba founded Makhophila Training, which has seen growth over the years from working from home to having fully equipped training venues in Durban Central. The company successfully exits skilled learners from its programmes, who seek and secure employment providing education with a difference.
Sherwyn Esbend
SBenz Construction and Services was founded in 2011 by husband and wife team Sherwyn and Karen Esbend. The company is constantly looking for new and innovative technology, products and trends to improve on quality and turnaround times. Sbenz endeavours to combine old business principles and modern technology, which sets it apart from their competitors.
Businessfit Entrepreneur Award
"Founder and chief executive officer of the Discovery Group, Adrian Gore once said, "Becoming an entrepreneur is like jumping out of an airplane with silkworms instead of a parachute and hoping that they are over-achievers! Most business people know of Adrian Gore and they know of the remarkable business he has built.
His words, however, highlight the importance of adequate support for entrepreneurs and ensuring that they have the necessary resources to flourish in this difficult environment," says Akhona Mahlati BusinessFit director.
"We need to significantly accelerate the emergence and development of sustainable small and medium enterprises. This challenge is not only for the national government, but also for corporate South Africa and the private sector to fulfil. We also believe in the strategic use of the B-BBEE legislation as a means and way of developing and growing these entrepreneurs and businesses."
BusinessFit is a formally constituted majority Black Owned business comprising of a team of experienced business owners who have grouped together to pool their respective skills and knowledge, with the common objective of helping support the growth and development of small and medium businesses.
BusinessFit has done this because, the business, like many economists and business commentators, know that South Africa's economic future depends upon a more vibrant and growing, small and medium business sector.
BusinessFit's passion is to grow entrepreneurs and their businesses, and to encourage a culture of continuous improvement in staffing, client relationships and the efficient delivery of core business competencies. The business strives to ensure that the entrepreneurs that it works with, develop and grow to meet their anticipated growth trajectory.
BusinessFit essentially wants these businesses to:
Increase their turnover
Increase profitability
Improve industry best practice
Have better business compliance
Have access to broader and greater markets
And, most importantly create new jobs in the economy
BusinessFit want to see the KZN and the South African economy at large grow.
"It's for these reasons why BusinessFit has opted to sponsor the KZN Top Entrepreneur award," said Mahlati.