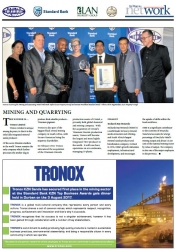 KZN Top Business Awards 2017 : Mining and Quarrying : THE WINNER IS Tronox Limited
KZN Top Business Awards 2017 : Mining and Quarrying : THE WINNER IS Tronox Limited
2017-08-11
THE WINNER IS ... Tronox Limited

Tronox Limited is unique among its peers, in that it is the only fully integrated mineral sands producer.

Of the seven ilmenite smelters in the world Tronox remains the only company which further processes the smelter slag to produce final saleable products - Titanium pigment.

Tronox is also part of the biggest black owned mining company in South Africa, with Exxaro Resources being the majority shareholder.

In February 2017, Tronox announced the acquisition of the Titanium Dioxide production assets of Cristal, a privately held global chemical and mining company. With the acquisition of Cristal's Titanium Dioxide production assets, Tronox will become the largest and most highly integrated TiO2 producer in the world. It will now have operations on six continents, managing 19 plants.

FINALIST
Richards Bay Minerals
Richards Bay Minerals (RBM) is a world leader in heavy mineral sands extraction and refining; and South Africa's largest mineral sands producer and beneficiation company. Formed in 1976, RBM's growth stimulates employment, infrastructural development, and encourages the uptake of skills within the local workforce.

RBM is a significant contributor to the economy of KwaZulu-Natal and accounts for a large percentage of KwaZulu-Natal's mining output and about 3.3 per cent of the national mining sector by value of output. The company is also one of the major employers in the province.
---