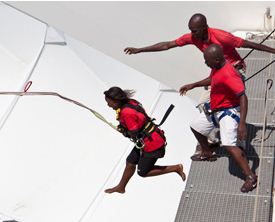 Since its global debut as Durban's host venue for the FIFA World Cup, Moses Mabhida Stadium has quickly become a firm favourite with locals and visitors alike. With a number of exhilarating attractions and a thriving retail zone, it has more than enough on offer to ensure that it is a popular venue week-round, and not just on match days. The commercial facet of the stadium is complemented by top-notch eventing venues, with the ability to offer a level of hospitality that ensures that every occasion is a success. From the intimate Gold Business Club 1 to the grandeur of the Mixed Zone, Moses Mabhida Stadium can accommodate events from cocktail parties, to multimedia displays to banqueting and more.
It's no wonder that the stadium is a popular eventing venue. Its different rooms offer spectacular views, from the Durban cityscape to the lush pitch. It is also a patron of the arts, containing beautiful commissioned pieces by local artists. With its soaring arch and distinctive architecture it has quickly become a Durban icon, and favourite fixture in the city's skyline.
For occasions of a different kind, there are a number of suites for hire during the stadium's sporting and entertainment events. This gives people an opportunity to watch the action on the pitch in style, and is sure to make for a memorable event for all those invited.
The unique attractions at the stadium also add excitement and adventure to any day out, whether it's a trip on the Sky-Car to marvel at the 360 views of the city, a brave jump out on the Big Swing, or the 550-step adventure walk up the iconic arch. There are also a number of stores and restaurants at the stadium for those who are less thrill-seeking in their ambitions.
So, whether you're looking for an exciting day out, some retail therapy, or a great venue for your next occasion, Moses Mabhida Stadium has it all.