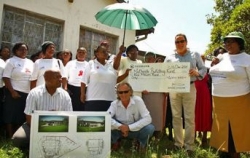 Afripack:CSI Initative: Muthande SOD turning a proud moment
Afripack Muthande SOD turning a proud moment
2013-04-29
CSI Initative
Corporate Social Investment (CSI) can be seen as something that has to be done to earn a reputation as a good corporate citizen or to maximise the relevant points on a BBBEE scorecard. A budget can be determined, cheques can be sent to some needy organisations and a company can proudly say it cares for the community. Alternatively, you can take the harder route and get involved over and beyond signing cheques and make a real difference in a community.

Afripack took the latter approach when it decided to lend a helping hand to the Muthande Society for the Aged in Lamontville Township, south of Durban. We originally sponsored the Society's annual Christmas function hampers but, with a vision to be more than just Father Christmas once a year, we then engaged with the Muthande leadership to establish their needs, hopes and dreams. At the top of the list was a functional community centre for the aged: a place where they could meet, do crafts, be educated and fed. As the existing facility was falling apart, it was then that we made a commitment and took on the responsibility to facilitate the building project.

Once the zoning was in place, Afripack enlisted the pro bono services of architect, Hans Coetzee, who transferred the dreams and wishes onto paper and guided the plan approval process. It was a memorable and emotional day when the plans were shown to the Muthande leadership. Elated 98-year-old Gertude Ngubane, who walked the long road with Afripack and attended every council meeting declared, "I made a deal with the Lord not to take me until the building became a reality." Gertude was present at the ceremonial sod turning ceremony, which was held in December and facilitated by the eThekwini Metro.

The building cost is estimated at R6m and Afripack has committed a minimum of R4m towards the project. The company will soon engage with its business partners to seek assistance in making up the shortfall by sponsoring specific portions of the project.




---