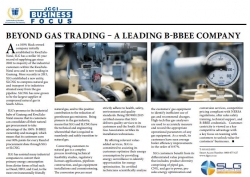 SLG:Beyond Gas Trading - A Leading B-BBEE Company
As a 100% black owned company initially established in KwaZuluNatal, SLG has a stellar 16-year record of supplying gas since 2002 to majority of the industrial customers within the KwaZuluNatal area and is now trading in Gauteng. More recently in 2015, SLG established a new entity, SLCNG to compress natural gas
and transport it to industries situated away from the gas pipeline. SLCNG has now grown to be the largest supplier of compressed natural gas in South Africa.
SLG's presence in the industrial hubs of Gauteng and KwaZuluNatal ensures that its customers can consolidate all their natural gas procurement to take advantage of the 100% B-BBEE ownership and managed, which means that its customers earn over 80% points for every Rand of procurement done through SLG or SLCNG.
SLG has assisted many industrial companies to convert their primary energy consumption from dirtier forms of fuel such as Diesel, HFO, and Coal, to the more environmentally friendly natural gas, and to this positive
contribution to the reduction of greenhouse gas emissions. Being pioneers in the gas industry, means that SLG and SLCNG have the technical and engineering wherewithal that is required to seamlessly and safely transition to natural gas.
Converting customers to natural gas is a complex process involving technical feasibility studies, regulatory licenses applications, pipelines construction, and gas equipment installations and commissioning.
The conversion process must strictly adhere to health, safety, environment and quality standards. Being ISO9001:2015 certified ensures that SLG delivers quality services to its customers and the South African
Gas Association certifies its installation technicians.
By offering relevant valueadded services, SLG is committed to assisting its customers optimise their energy
consumption by providing energy surveillance to identify opportunities for energy optimisation. Its certified
technicians scientifically analyse the customers' gas equipment to identify inefficient use of gas and recommend changes.
High-tech flue gas analysers are used to accurately measure and record the appropriate operational parameters of any gas equipment. As a result, its customers have seen average boiler efficiency improvements in the order of 8.97%.
SLG customers benefit from its differentiated value proposition that includes; product diversity comprising of piped gas, CNG, and gas to power, presales energy optimization and conversion services, competitive pricing compliant with NERSA regulations, after sales safety training, technical support, and B-BBEE credentials. Customercentricity is viewed as a key competitive advantage with a key focus on teaming with
customers to unlock value for customers' businesses.
T: 031 812 0555
Smart Access Number: 0800 075 427
www.slgas.co.za