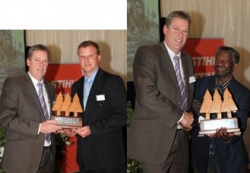 NCT Forestry:Hagen Gevers & NJ Madonsela receive their awards from NCT Chairman, Harald Niebuhr
NCT Forestry 2012 TREE FARMER AWARDS
2012-11-20
NCT Forestry's 2012 Tree Farmer awards went to RF Gevers (Pty) Limited in the category of farms managed on privately-owned land and NJ Madonsela in the category of a farm managed on communal land. Both recipients were recognised for their excellence in sustainable plantation management and have earned their place on the exclusive list of achievers in tree farming.
The RF Gevers company is a family operation that was established by Robert Gevers in Vryheid in 1949. The 250ha farm named Lekker Water was predominantly grassland which was ploughed up and planted to black wattle. The main market for wattle timber at that time was the Hlobane Coal Mine. From this humble beginning, the operation has grown to include 19 farms and a modern saw mill.
The company owns approximately 2 760ha of pine plantations, 1 840ha of black wattle and 100ha eucalypts. Other productive areas include pastures and camps for grazing a beef herd with 800ha of open areas managed primarily for conservation and fire protection. These areas include grasslands, riparian areas, rocky outcrops, firebreaks and patches of indigenous bush.
Click on link below to view article:
NCT'S 2012 Tree Farmer Awards
- 0.1 Mb
November News Release
---