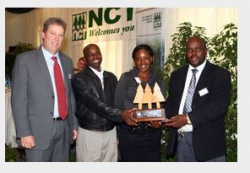 NCT Forestry - Tree Farmer Awards:Patrick Dhlamini, Ncamisile Zulu & Thokosani Zondi of IZANQAWE FARMING â€" winner in the category farm managed on communal land
NCT Forestry - Tree Farmer Awards
2014-03-13
Holme Lacy Farm and Izanqawe Farming received this year's NCT tree farmer of the year awards. The winners were recognised for their excellence in sustainable plantation management and earned them a place on the exclusive list of achievers in tree farming.

HOLME LACY
The Mason family received this year's award in the category of farms managed on private land. The farms (Perbrook and Holme Lacy) are located outside Greytown in the KwaZulu-Natal midlands.The enterprise is managed as a family business with the father, Jack, recently having handed over the management to his son, Andrew.

The operation covers a total area of 1350ha made up of 384ha of wattle, 550ha of gum and 165ha of pine. The remaining unplanted area is managed primarily for fire protection and conservation.

Although the farms generally have good soils and receive above average rainfall, the climate is challenging for managing plantations. The farms were hard hit by two severe snow storms in 1996 and 2004 which resulted in a rethink on site species matching and a move towards planting more snow tolerant Eucalypts.

A notable feature of the farms is the exceptional standard of silviculture. Where practical, brush is retained on sites alternatively a cool burn is implemented to reduce the fire risk. In recent years, Andrew has planted an increasing area to GN hybrid clones which are producing greater volumes of utilisable timber and offering more market options. Weed control involves a pre-plant spray followed by a ring weed/cone spray operation once the seedlings are established. A final spot spray operation using a dye and low drift spray nozzle is implemented prior to canopy closure.

Harvesting operations are motor/manual using labour to fell, cross-cut and debark timber. Logs are loaded using bell three-wheelers and pulp-wood is extracted to depot using tip-trailers. Other products include charcoal wood, poles for treating and leaf material for essential oils.

The Masons have developed an effective fire protection plan. External firebreaks are well-prepared and a network of internal breaks means that any fire in a compartment can be contained to a limited area. Wattle is planted strategically to form a network of green fire protection belts.

A big effort is being made to reduce the impact of an inherited road network.

The Masons have a number of communities living on the farm and have created employment opportunities for 102 people.

Jack and Andrew have served on numerous boards and committees. Jack served with distinction as president of SAWGU and as directors on the NCT Forestry board. Andrew is the current president of the regional agricultural society and is the fourth generation from the farm to hold this position.

The Masons have increased productivity on the farms through correct site species matching, exceptional silviculture practices, good labour relations and effective diversification of markets. Their plantation management is compliant with all aspects of sustainable plantation management including health and safety and minimizing impacts on the environment. These aspects, together with their service to the local community make them worthy recipients of the tree farmer of the year award.

IZANQAWE FARMING
Izanqawe Farming was acknowledged the winner in the category of farm managed on communal land.

The farm is a land claim settlement in Ngome between Greytown and Tugela Ferry, a region rich in history where the ancestral leader, Inkosi Bhambatha kaMaNcinza, descended.

The Izanqawe Community Trust, made up of 199 beneficiaries, was formed to operate the new business venture after the successful settlement in 2007. The farm included two mixed farms: one with timber and the other a game farm.

The operation was judged on general farm management and adherence to forestry standards in silviculture, harvesting, road construction and maintenance, environmental management and social responsibility.

Izanqawe Farming is a worthy winner in this category. They managed to run the operation efficiently lacking any financial support from the government or financial institutions. It was their determination and commitment that rendered them respect and assistance from neighbouring farmer, Martin Hill who offered a helping hand.

The company has not looked back since, joining NCT as members in 2008. Today Izaqanawe Farming produces wattle pulpwood, firewood, wattle bark and saw logs. Cash crops are part of their strategy, diversifying their source of income. Their main focus has been timber farming but they are looking to expand into beef and game production.
---