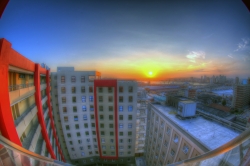 Langeler Towers is a welcomed concept to the Durban market boasting panoramic views and providing a sanctuary for the city's elderly. Photo: Abhi Indrarajan
The sun cascading over Langeler Towers heralds the dawn of a new era for Tafta - dedicated to serving the needs of Durban's elderly residents. This brand new residential block offers more than just a home for hundreds of senior citizens... it is a symbol of hope and belonging - the culmination of a labour of love.

Tafta's commitment to providing safe, sheltered housing and care for elderly people in need within the eThekwini region, saw the transformation on the once vacant plot on Durban's South Beach into a pristine 11-storey residential property.

The development has contributed to the substantial investment into the regeneration of the Durban beachfront promenade by the eThekwini Municipality. "The plot of land which was previously rented from the municipality as a recreational space for residents was later identified as an ideal site for the complex due to its location, which offers elements of relaxation, tranquillity and comfort as well as ease of access to public transport and government hospitals," says Tafta CEO Margie Smith.

With this in mind, the development of Langeler Towers was a welcomed concept to the Durban market boasting panoramic views and providing a sanctuary for the city's elderly. "The building was named Langeler Towers â€" in honour of a generous donor who rescued Tafta from closure many years ago. This coupled with assistance from KZN's Department of Human Settlements as well as generous donors and sponsors turned this dream into a reality," says Smith.

The development, sought to address the continued demand for secure and affordable accommodation for Durban's pensioners, who are hard hit by social abuse, abandonment, lack of access to health-care as well as the impact of HIV/Aids. Langeler Towers has been designed specifically to respond to the housing requirements of those earning low incomes, providing an environment which offers essential supportive services and a continuum of care as required. The complex, which links to the fully renovated John Conradie House, has access to a newly designed frail care unit and an extensive assisted living unit, and also offers top of the range security, allowing residents 24-hour safety.

In addition, Langeler Towers will make available self-catering units with a monthly rental option, geared so that the units are affordable. The building will become home to 900 elderly citizens offering them top class facilities and care. The flatlets, which are now available for occupation, feature various sizes and will be rented out on a 'per bed' basis. The independent living facilities range from bachelor or single units to those that offer the option to share. The flatlets offer fully tiled bathrooms including safety rails for residents to hold onto. The bedrooms showcase unsurpassed views of the ocean offering residents a serene space of comfort.

"For residents, it's a place that provides uncompromised standards of care and the comfort of an extended family in the form of compassionate and dedicated staff," adds Smith.

Langeler Towers boasts some incredible facilities, including an on-site coffee shop, beauty salon, laundromat, convenience store, library and a service centre that provides a full range of activities for residents. In addition, a meeting room and garden rooftop overlooking the bay completes its offering. Through Tafta's very own "Cook n Care" facility meals are prepared and available to residents on a daily basis.

"Tafta extends heartfelt gratitude to all donors who have contributed so selflessly. Your generosity has made it possible for the organisation to reach out to those most in need and to see fruition of one of Tafta's most ambitious ten year projects," says Smith. In an environment of diminishing state support, it is through investments and on-going support from donors and the broader public that will determine Tafta's sustainability in elderly care- in accomplishing its vision to have the opportunity to live fulfilled lives.
ISSUED BY BLACKBOOK EVENTS & PR. ON BEHALF OF TAFTA.
Subashni Govender Cell: 084 599 9912 Mailto: subashni@blackbookmedia.co.za
Simone Samuels Cell: 081 578 8783 Mailto: simone@blackbookmedia.co.za
CONTACT:
For media enquiries contact Gail Samuels on: 031 332 3721 or email: gails@tafta.org.za
Website: www.tafta.org.za
Facebook: https://www.facebook.com/TAFTA.KZN/
Twitter: @TAFTA_SA
ABOUT Tafta â€" The Association for the Aged
Tafta is one of South Africa's leading, registered non-profit organisation in Care in KZN.
Established in 1958, for more than 5 decades, Tafta has been the leading provider of Care focusing primarily on the needs of the elderly and vulnerable groups in Durban.
Our unique value proposition lies in creating value for clients and our partners with a key focus on outcomes and benefits. Our strength in healthcare, community outreach programmes and community development initiatives are our main differentiators. We seamlessly integrate our services with best in class processes and programmes that maximise efficiency, quality, safety and service excellence.
Our Mission:
Our mission is to encourage and promote active ageing in older people-to live as independent members of the community for as long as possible, and to care for those who are no longer able to look after themselves. Our aim is to alleviate distress of the elderly and other vulnerable groups by using our resources in the most effective and efficient manner and where the need is greatest.