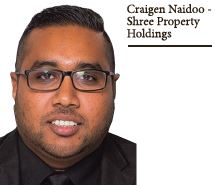 Craigen Naidoo - Shree Property Holdings : Mega-Project Creates New Dimension For Property Development Giant
Craigen Naidoo - Shree Property Holdings : Mega-Project Creates New Dimension For Property Development Giant
2017-09-06
With the foresight to look beyond the prevailing recessionary trends, Durban entrepreneur, Pran Shree, is set to mark his property development enterprise's 10th anniversary by breaking ground on a mega mixed-use project at Shakaskraal, in the heart of Durban's Northern Urban Development Corridor.

Commenting, Craiglen Naidoo, Operations Manager for Shree Property Holdings, said: "This, our latest project, introduces a new dimension for our company, with our first venture into the residential property development arena in South Africa, and a commitment to bringing on-stream some 4 000 low to middle-income dwellings within the next five to seven years."

Although a company first in this country, Shree Property Holdings is experienced in the field through its residential interventions in the United States of America.

The new project, located at Woodmead in the KwaDukuza Municipality's Shakaskraal area, 50km north of Durban, comprises industrial, commercial and residential development within an emergent business and manufacturing hub which is attracting significant migration levels.

"With Greater Durban's potential for substantial business growth, we had the vision to recognise that Woodmead was perfectly positioned, close to excellent air and road transport routes, to meet the business community's every need," Naidoo added.

The industrial component, called Pran Park - Shakaskraal, is a 250 000m2 serviced 'Greenfield' site, with seven platforms available for industrial development and is poised to unlock new industrial opportunities, the ideal response to Government initiatives to kick-start the further growth of the local manufacturing sector in the quest to create large-scale new employment opportunities.

Shree Property Holdings has already secured its first tenant, leading stainless steel cookware manufacturer, Inoxa Industries, and is developing a customised 25 000m2 facility under roof on a 50 000m2 site. The business will employ some 500 people when fully operational.

"With our commitment to flexibility and with the capacity to offer full turnkey development solutions, land for purchase or leased premises, Shree Property Holdings is entertaining encouraging enquiry levels regarding manufacturing sites at Pran Park - Shakaskraal and this industrial park has the potential to create up to 2 000 sustainable jobs, which will make a sizeable impact in the surrounding community," said Naidoo.

He stressed that the 80 000m2 commercial element of the Woodmead project would introduce large-scale retailers to the area, benefitting both the KwaDukuza Municipality and numerous low to middle-income consumers in the region. The intention is to provide a strip-mall facility with a 25 000m2 retail space under roof. A newly developed taxi rank, constructed by the KwaDukuza Municipality, will be attached to this commercial precinct, providing Woodmead residents and commuters from surrounding areas access to a vital transport node.

Launching its residential property development initiative, Naidoo said the high-end market on Durban's north coast was saturated and that the company was, therefore, focused on targeting the 'gap market' - low to middle-income earners - on a large scale.

"We aim to open the door to a new community in this area with a mega housing project which will enable some 4 000 middle-income housing opportunities at Woodmead in a phased approach," Naidoo said of the fully serviced environment.

"The KwaDukuza Municipality has provided the necessary infrastructural inputs and has in place plans for schools and clinics. Local Government here has been most supportive of our development plans," added Naidoo.

Construction of the 200 000m2 phase one, bringing on-stream 400 units, is set to commence in the first quarter of 2018, setting the scene for the potential establishment of joint ventures between Provincial and Local Government structures and the private sector.

"We want to deliver decent living establishments, giving dignified ownership to ordinary people and to make such dwellings more liveable by cost-effectively introducing so-called high-end benefits, such as gated community living."

"At the end of the day, the primary objective of Shree Property Holdings is to contribute meaningfully to the upliftment of the Shakaskraal community and to create many sustainable, new employment opportunities in the area," Naidoo maintained.
---