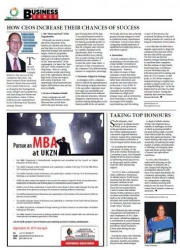 Professor Theuns Pelser-How CEO s Increase their Chances of Success
The success of CEOs is deeply linked to the success of the companies they lead. The latest research from McKinsey however shows that successful CEOs made bold moves' such as changing the management team, mergers and acquisitions, and launching new businesses and products. Some of these bold moves are underpinned by the following four business strategy themes:
1. The "Heart and Soul" of the Organisation.
Obviously, one needs to ensure that all key functions of the business are efficient and effective, and that there is a drive to achieve important strategic and operational targets. However, progressive companies now go beyond this approach of focusing exclusively on the "body and mind" of the organisation. For them, the "heart and soul" of the company is also a big thing - there is a caring environment, people enjoy being part of the organisation, there are high levels of trust and respect, and a sense of purpose. Not surprisingly, these businesses have higher staff retention rates and are more profitable.
2. Review of Business Model.
Many companies are still operating with business models that may have served them well in the past, but have now gone beyond their sell-by date. A successful business model is essentially the formula or recipe for making acceptable profits on a sustainable basis, and ensures that the company stays relevant
in a rapidly changing world. Significantly, there is a strong product/market focus, taking into account existing, new and potential income streams. It revisits the entire value chain. A vital part of this conversation is the companies' key differentiating features or competitive advantage.
3. Structures Aligned to Strategy.
As strategies evolve, companies need to rethink the appropriateness of the existing company structures. To be successful, companies need to be agile, fast and flexible and these criteria need to be reflected in the selected structures. Effective delegation, empowerment, and decision-making taking place at the lowest possible levels, are needed. Previously, the focus was on having groups of people assigned to work in traditional teams, departments or divisions. Now it is more about configuring suitable platforms of capabilities and deploying them as and where required.
4. Innovation.
In most companies, there is an abundance of new ideas and a large number of employees are creative and have powerful imaginations - however, the culture in many of these companies is such that these elements are utilised sporadically, rather than entrenched, and creativity and innovation have not become a "way of life" in the company. Recently, many companies have prioritised innovation as a high-level strategic issue, and are promoting (and rewarding) a culture that encourages fresh insights, experimenting, and risk-taking. As part of this process, the occasional breaking of rules and making mistakes are viewed as an integral component of innovation.
CEOs that take the helm have a singular opportunity to shape the companies they lead and will be the ones that will be successful. The best ones use the four business strategy building blocks to transform their companies. But this window of opportunity doesn't last long. According to a recent McKinsey study, an inflection point arrives during year three of a CEO's tenure. At that point, a CEO whose company is underperforming is roughly twice as likely to depart as the CEO of an outperforming one - by far the highest level at any time in a chief executive's tenure. During this relatively short window, fortune favours the bold.
pelser@ukzn.ac.za
http://gsbl.ukzn.ac.za