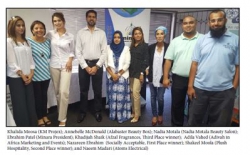 Minara Chamber - Minara Entrepreneur 2015 Competition
The Minara Chamber of Commerce was proud to announce the winners of the Minara Entrepreneur 2015 Competition at the Minara Conference Room in Sherwood, Durban.
Minara Chamber, together with five other Chambers in KZN, have partnered with the KZN Business Chambers Council (KBCC) and the Department of Economic Development, Tourism and Environmental Affairs to conduct the Entrepreneur 2015 Competition in KZN.
Chamber President, Ebrahim Patel, explained that "The Entrepreneur 2015 Competition was an innovative programme providing intensive business training, skills transfer, mentoring, branding support
and an exciting opportunity to pitch for a cash prize".
The Competition was open to any business based in KZN and a high number of entries were received. The qualifying entrants went through eight weeks of training in different aspects of business and mentoring from experienced businesspersons and professionals.
Eight entrants made it through to the finals and had the opportunity to pitch the business idea to an esteemed panel of judges who adjudicated the finals. The judges included Solly Suleman the director of the Sparkport Pharmacy Group, Cllr Fawzia Peer the Chairperson of eThekweni Municipality Finance
and Procurement Committee, businessman Razak Jooma and representatives from KPMG.
The Chamber congratulates the Winner Nazareen Ebrahim of Socially Acceptable, and runners up being Shakeel Moola of Plush Hospitality and Khadijah Shaik of Afzal Fragrances.
Patel commended the finalists for their commitment to the programme and is confident that these aspiring entrepreneurs will use the skills and ethics learnt during the programme to grow their businesses and to contribute to job creation and economic growth in our province.
"We are excited to be part of this programme with the DEDTEA and thank MEC Michael Mabuyakhulu for his support and sponsorship of the programme. We would encourage more entrepreneurs to apply to join the programme next year" said Patel.
www.minara.org.za