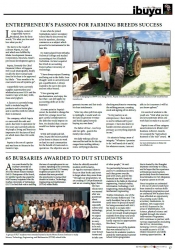 65 Bursaries Awarded To DUT Students
65 Bursaries Awarded To DUT Students
2017-06-06
At an event hosted by the Durban University of Technology on 8th May 2017, the Moses Kotane Institute
(MKI) Chairperson of the Board, Dr Sakhile Ngcobo has urged the MKI bursary recipients from the Durban University of Technology (DUT) to find their role in tackling the issue of unemployment in our country. Speaking at the ceremony, Dr Ngcobo said the DUT bursary recipients are part of the 149 students that were provided the opportunity to pursue their dreams in Science, Technology, Engineering and Mathematics (STEM) related fields.

Before he officially awarded students with bursaries, Dr Ngcobo motivated them to focus on their books and never to forget where they came from. "Through our programmes, we are creating STEM professionals and we are creating legacy hence the man whom MKI was named after was passionate about education especially science and technology, therefore we expect all of you to carry his values, to be role models in your lecture rooms and to take care of other people," He said.

The partnership between MKI and DUT commenced in 2010, and it has grown over the past seven years, and for this financial year MKI funds 65 students in the fields of: Electrical engineering, Nautical studies, Information Technology, Civil Engineering, Biotechnology and Mechanical Engineering.

Thabiso Simamane, one of the MKI bursary holders said "I'm really humbled, but at the very same time I'm proud of myself for being associated with MKI. My desire is to make MKI proud, for reaching out to us as we are previously disadvantaged students from deep rural areas and most of the times we are hardly exposed to opportunities like these," He said.

Simamane is one of the students that were selected by DUT based on his academic results to attend the International Summer School Africa programme that is hosted by the Shanghai Maritime University in China, and he hopes that his experience will motivate more learners particularly from his hometown KwaNzimakwe in Port Shepstone to pursue careers in STEM.

Since inception an estimated 4 184 out of school youth have been trained in various skills development programmes and an estimated 894 students have been afforded an opportunity of accessing scarce skills at tertiary institutions, In addition, MKI supported to 80 875 learners in the areas of Mathematics, Life Science, physical science and English through the Matric Intervention Programme. MKI continues to partner with various organisations including the SETAs, Universities, Samsung, COGTA and others to enable access to STEM related education and skills training opportunities.
---