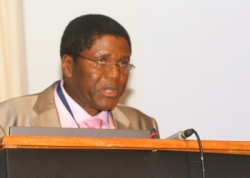 Remmy Makumbe, Director Infrastructure and Services, SADC Secretariat. Credit: IPS/Zukiswa Zimel
SADC PERSPECTIVES ON THE REGIONAL TRANSPORT SECTOR AND OPPORTUNITIES WITHIN THE REGIONAL TRANSPORT MASTER PLAN
2011-12-19
SADC PERSPECTIVES ON THE REGIONAL TRANSPORT SECTOR AND
OPPORTUNITIES WITHIN THE REGIONAL TRANSPORT MASTER PLAN
By
Remmy Makumbe, Director, Infrastructure and Services, SADC Secretariat
- Director of Ceremonies;
- The Mayor of eThekweni, Councillor James Nxumalo;
- Premier of KwaZulu Natal, Dr Zweli Mkhize;
- Dr Sibusiso Ndebele, Minister of Transport and Chair of the African Renaissance;
- Minister for Public Enterprises, Mr Malusi Gigaba;
- Ministers of Rural Development and Land Reform;
- The CEO of Standard Bank, South Africa, Mr Sim Tshabalala;
- Distinguished Delegates, Colleagues and Friends;
- All Protocols Observed;
I am honoured and profoundly privileged to be accorded this opportunity to share with the
distinguished dignitaries and distinguished delegates here present, some perspectives
around the SADC Transport Programme and the salient issues relating to the proposed
SADC Transport Master Plan. I wish to express our appreciation, on behalf of the SADC
Executive Secretary, Dr Tomaz Augusto Salomao, for having counted us worthy to participate
at this high profile Forum. I also wish to pay tribute, through you Hon Ndebele, and the KZN
leadership, to the Government and people of South Africa for the warm welcome and
legendary hospitality accorded to us since our arrival in Mzansi.
Over the years, it has been scientifically proven that the condition and performance of basic
infrastructure is a deterrent to growth in many countries. According to one World Bank study, the deficiency in infrastructure in Africa was found to reduce growth by 2% a year (Calderon
2008). Worse still, the Africa Infrastructure Country Diagnostic (AICD) points out that Africa's
cost of using infrastructure is among the highest in the world. This presumably comes from
the small scales of operation and consumption, generally national, and the fact that it is often
provided by state agencies or parastatals that operate without significant competitive
pressures for efficiency and cost reduction.
Current Projects Around the Transport Sector Growth
The strength of GDP growth and trade flows will have a major effect on the demand for
transport in the SADC region. Based on current performance and estimates, the Programme
for Infrastructure Development in Africa (PIDA) uses 6% annual growth to forecast transport
demand. Rapid increase in trade will put considerable pressure on the region to increase its
transport infrastructure and to improve its performance. It will also create major opportunities
in the transport and logistics sectors for both intra-regional and overseas trade. Some PIDA
forecasts that shape investment requirements in SADC include:
 Transit traffic for landlocked SADC countries1 will increase from 13 million tonnes in
2009 to 50 million tonnes by 2030, suggesting an annual growth rate of 8.2% per annum.
 Total port traffic in Southern Africa will jump from 92 million tonnes in 2009 to 500
million tonnes in 2027, that is, a growth rate of 25% which may sound ambitious.
 Air transport traffic is expected to grow by between 5% and 7% per annum through
to 2027, necessitating major expansions at currently busy airports like OR Tambo.
 Overall Southern African surface transport traffic as a whole will grow from 39 million
tonnes in 2009 to 74.5 million in 2015 and 178 million by 2030, that is, by 7.5% per annum.
THE SADC TRANSPORT MASTER PLAN
First and foremost, allow me to provide a short background on the genesis of this project.
The SADC Summit at its Brainstorming Session on "the Scaling Up of the Implementation
of Regional/Trans-boundary infrastructure" held in Lusaka in August, 2007, directed the
Secretariat to prepare and finalize a Regional Infrastructure Development Master Plan which
provides a framework and guides the Region in implementing trans-boundary infrastructure to
facilitate trade. The Plan further seeks to elaborate priority infrastructure projects to respond
to the strategic framework characterizing the Master Plan. In other words, the SADC
Regional Infrastructure Development Master Plan (RIDMP) is a strategic framework to guide
the integrated development of efficient, seamless and cost-effective trans-boundary infrastructure networks in all sectors that constitute the SADC Regional Infrastructure
Programme.
This process commenced in July, 2011 and will be completed in June, 2012 for adoption by
Council and Summit in August, 2012, in Maputo. The Master Plan is a Strategic Framework,
which articulates our key objectives as a region and in the area of infrastructure, which are
then underpinned by a compendium of projects, which seek to support the Strategic
Framework. Secondly, it is noteworthy, that the projects contained therein, are projects
which were proposed by the Member States and our principals, who we therefore expect to
take ownership of the outcomes. This process is part of the Roadmap to the Maputo Summit,
and entails the forthcoming meeting of Ministers of Infrastructure to be held in Luanda,
Angola, next month, who shall deliver their Seal of Approval before Council recommends
adoption to Summit. It is important is to ensure that we shall focus on the priorities that
makes a big difference to the bigger picture relating to deepening our regional integration,
facilitating universal access to infrastructure and addressing our overarching objective of
poverty reduction, as espoused by the SADC Regional Indicative strategic Development Plan
(RISDP). The Transport Master Plan focuses on implementation of projects within the short,
medium and long-term over the duration of the Planning horizon based on 15 - Year Vision
2027, for the phases 2012-2017, 2017 - 2022 and 2022 - 2027, during whi ch there are
expectations to guide accelerated integrated infrastructure development in the SADC Region.
CRITICAL SUCCESS FACTORS FACTORS FOR THE IMPLEMENTATION OF THE
MASTER PLAN
To ensure the successful implementation of the Master Plan, a number of factors need to be
fulfilled or in place, and these include:
 There needs to be a major effort at inclusiveness and buy-in by first, Member States,
all relevant stakeholders, and thereafter it must be sustained with information disseminated
on achievements and progress so that momentum is maintained.
 Availability of a pipeline of bankable projects from the Master Plan is critical for
investor off take.
 The consultation process during project development needs to include both public
and private sector participants to insure that the project responds effectively to user needs.
 We believe there must be Increased understanding of investor decision-making so
that projects are prepared with the requirements of potential financial sources in mind, be it a
multilateral development bank, equity investor, private sector fund, etc. Since most projects are regional, and involve several countries, which often have
varying levels of commitment, it is necessary to obtain and retain full commitment for the
projects through robust Inter-State agreements.
 The region needs to continue strengthening of institutional, regulatory and legal
frameworks, to underpin hard infrastructure development.
 Infrastructure sectors are highly interconnected in their operations, and it will be
necessary that SADC delivers on all the sectors to achieve the optimal impact on economic
growth and regional integration.
Ladies and Gentlemen, Colleagues and Friends
We need not be reminded that the one of the key compelling aspects to this process is the
threat of increasing competition brought on by increasing globalization. The SADC Region is
facing basic infrastructure capacity constraints which have not only retarded regional
economic growth, but have failed to address our supply side constraints and productive
competitiveness, and the core issue of poverty. There is broad consensus, that unless, and
until the region has fully addressed the issue of access to enabling infrastructure, no
meaningful development will be realized no matter how much resources are poured into other
areas of development. In addition, we continue to count the costs of non-integration.
The infrastructure constraints reflect the imperative to prioritize development of basic public
infrastructure and services without which, our Member States, cannot realistically expect to
achieve sustainable growth and development pursuant to the Millennium Development Goals
(MDGs). The importance of physical connectivity through cross-border infrastructure is critical
to the enhancement of regional cooperation and economic integration. This calls for
cooperation and collaboration in strengthening transit procedures and connectivity
requirements across the Region, including harmonization of standards and simplification of
border control procedures and related trade facilitation systems.
Honourable Ministers, and My Dearest Colleagues,
It should also be noted, that while the trend shows an improvement in some of our Member
States, it also reveals considerable gaps in infrastructure availability across member
countries. In some cases. these gaps also seem to be widening, rather than narrowing, over
time. For example, while road transport has improved in most countries, minimal improvement can be observed in terms of rail transport which should move most of our cargo.
The region recognizes that there is an urgent need to intensify implementation of the regional
transport programme to enhance multimodal transport linkages, improve interconnectivity and
mitigate the damage and accidents caused on our roads. SADC has initiated a Railway
Revitalisation Programme which seeks to craft a strategy to bring the railways back to life.
The Region adopted the Spatial Corridor Development Strategy Concept in 2008 under which
we now have a flagship programme known as the North-South Corridor Project to facilitate
holistic planning of all sectors. In attending to corridor infrastructure development, it is critical
that special attention be paid to unimaginable delays at border posts, and that is the part of
the value chain where money is made or lost, and characterizes our ability to compete with
the rest of the world, and ultimately the cost of the delivered product to the consumer, and
may condemn us to poverty. South Africa has opted for the Border Efficiency Project
Approach, which is about to be implemented at Komartipoort/Ressano Garsia Border Post
and the notorious Beitbridge Border Post, understood to be the busiest in Sub-Saharan
Africa. The broad policy for SADC is the One-Stop-Border-Posts like institutionalized at the
Chirundu Border Post, and am aware the huge variation of prices in different countries of
Sub-Saharan Africa bears testimony to this fact. In many ways, that defines our responsibility
as States, non state actors and private sector.
It is also imperative that we provide a robust, safe and cost-effective air transport network,
underpinned by open skies, fair competition, city to city pairs, regular services within a
framework of sound airport infrastructure, safe navigation in the skies, air worthiness
assurance, all prescribed to ICAO Standards.
Ladies and Gentlemen,
Even though the Master Plan will be ready shortly, the challenge going forward is the
resources required to implement the ambitious plans. SADC has identified 154 projects with
an investment cost of USD 28 billion. The recent Africa Infrastructure Diagnostic Study
(AICD) has focused capital outlay of approximately USD 93 billion per annum to enhance
infrastructure and services in the SADC Region. The Programme for infrastructure
Development of Africa (PIDA) which is a Pan Africanist "Continental Strategic Framework"
has made similar estimates. The SADC Master Plan, which constitutes our launch pad for reconstruction, will come up with estimates which will inform our planning and implementation
processes, which should focus on quick wins.
Director of Ceremonies,
As regards financing of infrastructure, the turbulence in the globalized market threatens
states of both developed and developing world, limited resources in the public sector we
recognize the imperative to engage in public and private partnerships to facilitate delivery of
regional infrastructure and services. The traditional financing modalities for infrastructure
include financing from Development Finance Institutions (DFIs), Sovereign loans from
bilateral agreements, mobilization of local resources, private sector as well as Public Private
Partnerships, which are gaining prominence over time. Following Summit approval, the
region has established a Project Preparation and Development Fund, which is meant to
package projects up to bankability, to facilitate downstream investment.
Related to this matter is the reality that for Africa Infrastructure to be sustainable, a number of
arrangements need to be put in place, namely:
full cost recovery by users needs to be institute;
funds raised from user charges need to be channeled to transport infrastructure
maintenance initiatives;
Funding should also be utilized cost-efficiently, to avoid unnecessarily over-burdening the
users.
Unfortunately, this issue has always turned to be very political, leading to perennial subeconomic user charges and inevitable degradation of transport infrastructure.
Ladies and Gentlemen,
In conclusion, it should be noted that having the Master Plan is just part of the process, as
the real work begins as we seek to implement this Plan. Given the priorities that Summit has
set for ourselves, and its commitment to the process, I have no doubt that we shall execute
this plan leveraging our comparative advantage of numbers, unity of purpose, from a
collective platform, given that most of these projects are transboundary, especially is we view
the SADC region as a single economic space, seamlessly inter-connected like a borderless
community. Nonetheless, we believe this is doable. In conclusion, let me appreciate Hon Ndebele your kind invitation to this all important discourse. I wish you all the best, and you
can be assured that SADC Secretariat is a ready and willing crew to support you through its
programme of Infrastructure Development Support for our Member States.
Siyabonga kakhulu!
Thank you for your attention.
---