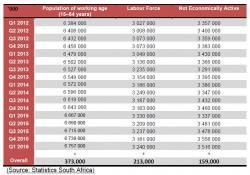 KZN Provincial Treasury - Provincial Labour Market May 2016:Relationship between the population of working age, the labour force and the not economically active population in KZN
KZN Provincial Treasury - Provincial Labour Market May 2016
2016-06-15
THE KWAZULU NATAL LABOUR MARKET â€" A PERFORMANCE AND TREND ANALYSIS1
LABOUR MARKET DEFINITIONS
The following definitions are of relevance and significance to the labour market.
Employed
Are persons aged between 15-64 years, during the reference week; did any work for at least one hour, or had a job or a business but were not at work (temporarily absent).
Labour force
Comprises all persons who are employed plus all persons who are unemployed.
Labour force participation rate. The labour force participation rate is the percentage of working-age persons in an economy who:
Are employed
Are unemployed but looking for a job Not economically active population
Persons aged 15-64 years who are neither employed nor unemployed in the reference week.
Unemployment rate
It is the proportion of the labour force that is unemployed.
Long term unemployment
Persons in long-term unemployment are those individuals among the unemployed who are without work and trying to find a job pr start a business for one year or more.
Underutilised labour
Comprises three groups as follows: persons who are underemployed, people who are unemployed, and people who are discouraged.
Click below link to view Provincial Labour Market:
Provincial Labour Market 4.17.pdf
- 162.5 KB
---