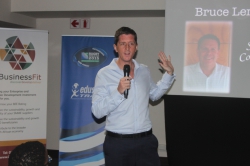 Durban Entrepreneurs Club - B-BBEE Development Initiative
Durban Entrepreneurs Club - B-BBEE Development Initiative
2016-04-08
Durban Entrepreneurs Club - B-BBEE Development Initiative

With thanks and gratitude to Edusport and Business Fit, the Durban Entrepreneurs Club was able to present a very successful talk on "implementing positive and cost effective B-BBBEE solutions" to approximately 60 entrepreneurs and small/medium size businesses at the Durban Country Club yesterday evening.

The Speaker, Bruce Lennon, a Business Fit Director, shared insights on how companies can "Get more bang for their buck with B-BBEE". Bruce says, it is all about understanding and interpreting the intention and structural parameters of the B-BBEE Act and Codes of Good Practice, and aligning them with the company's strategic vision. Bruce says many companies are taking advantage of funding opportunities within the B-BBEE Act, and many are receiving great benefit.





---