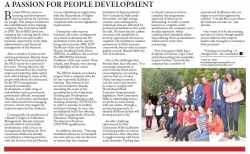 New Generation Skills - A Passion For People Development
Brenda Vilbro's career in learning and development has been driven by a passion for people. This passion resulted in the establishment of her training company, New Generation Skills in 2005. The B-BBEE level one company has a strong family ethos with both her son and mother involved, respectively, in the daily administration and financial management of the business.
After a number of years in the teaching profession, Brenda chose to follow her heart and worked in the NGO sector for a period of five years. During this time she became interested in the need for improved leadership skills, which were often lacking in many of the people with whom she interacted. As the NGO's programme involved community development, a wide range of stakeholders such as provincial government officials, municipal officials, local leaders, and funders were often involved in managing projects, which were negatively impacted upon by this weakness.
Consequently, on completion of a Master's Degree in Education Management, Brenda ventured into the field of critical skills development, with a focus on management development. New Generation Skills was initially accredited as a training provider with the Services Seta and Brenda is now embarking on registration with the Department of Higher Education in order to remain compliant with current legislation requirements.
During her early years in business, call centre training was very much in demand and her facilitation in this field saw her being selected as the 2009 KZN Facilitator of the year by Business Process Enabling South Africa (BPESA). In addition, she received the 2009 BPESA National Facilitator of the year award. These awards, says Brenda, were among the highlights of her career.
The BPESA Awards provoked a request from a company director for her to provide facilitator training. This interest in her services resulted in Brenda extending the scope of her accreditation to the Education, Training and Development Practices Sector Education and Training Authority (ETDP SETA) in order to provide accredited facilitator training. In turn, this accreditation led to her offering the full Occupationally Directed Education Training and Development Practices (ODETDP) qualification.
In addition, she says, "Training facilitators allows me to handpick my team and we only use the best to ensure that the company maintains its high standards." New Generation Skills pride themselves on high energy, creative, and contemporary workshops that are delivered by professional facilitators who walk the talk. The team has the calibre, resources and capabilities to develop customised solutions as required. The facilitators conduct assessment of all the learners' coursework, but in order to ensure quality control, Brenda fulfils the role of moderator.
One of the challenges that Brenda often faces she says, "Is to encourage companies to train from the heart and to send employees on training courses that are of value. Often training is merely a tick the score card exercise in order to comply with Broad Based Black Economic Empowerment legislation. New Generation Skills is relationship driven, we prefer to work closely with our clients, through a partnering approach, to identify skills needs that will develop people to fly."
Another challenge experienced by New Generation Skills facilitators is keeping people on courses motivated as often they have to juggle learning with heavy work demands. Finding time to attend courses as well as complete the assignments expected of them can be demanding. In order to assist learners to complete a full qualification, the company uses a module approach. which combines unit standards rather than offering them as standalones, which can be more time consuming.
New Generation Skills has a footprint in Durban, Cape Town and Johannesburg but would like to grow further. Currently the company has a number of experienced facilitators who are happy to travel throughout the country. "I would like to see where the business can take us," says Brenda.
Our vision is to be the training provider of choice though quality service delivery that inspires leaders and managers to maximise their potential.
"Training is rewarding - it changes lives," she concluded.
T: 082 417 4780
brenda@newgenerationskills.com
www.newgenerationskills.com/