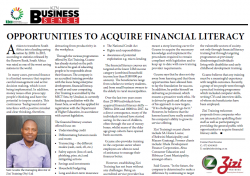 Sazi Gcume - Opportunities To Acquire Financial Literacy
A vision to transform South Africa into a leading saving nation by 2030. In 2015, according to statistics released by the Reserve Bank, South Africa was rated as one of the worst saving nations in the world.
In many cases, personal finance is a limited resource that requires careful management and active decision making, which is not being implemented. In addition, money issues often preoccupy people's thinking and have the potential to inspire anxiety. This continuous 'background noise' interferes with a positive mindset and clear thinking, therefore, detracting from productivity in the workplace.
Through the various programmes offered by Zizi Training, Gcume has already started on the path to achieve his goal of educating people to be responsible about their finances. The company is an accredited training provider with the focus being enterprise development, financial literacy, as well as end-user computing.
Zizi Training is accredited by the MICT Seta, by Umalusi, is currently finalising accreditation with the Fasset Seta, as well as has applied for registration with the Department of Higher Education, in accordance with current legislation.
The financial literacy courses offered focus on:
Understanding credit
Differentiating between needs and wants
Transacting - the different modes (cash, card, eft, etc.)
Safety aspects (loss of card, phishing, pins, etc) and mitigating actions
Savings and investments
Household budgeting
Long and short-term insurance
The National Credit Act
Rights and responsibilities
Awareness of potential exploitation e.g. micro-lending
The financial literacy courses are targeted at the lower LSM income category (combined household income less than R180 000 per annum). The beneficiaries range from scholars to tertiary students, and from small business owners to the elderly in rural municipalities.
Over the last two years more than 25 000 individuals have acquired financial literacy skills -- 7000 in 2016 and 18000 in 2017. As a direct consequence, many of the individuals trained have started saving. In the case of children, often through the use of money boxes, whilst many of the older age group cohorts have opened bank accounts.
Gcume also provides training in the corporate sector where employees are often in need of assistance to manage their finances better.
However, establishing Zizi Training has not been without any challenges. Being an accredited service provider has meant a steep learning curve for Gcume to acquire the necessary knowledge and implement the procedures required to remain compliant with legislation and to keep up to date with new training provider requirements.
Gcume says that he does not shy away from learning and that these opportunities have allowed him to lay the foundation for success. In addition, he prides himself on delivering as promised, which ensures a proactive work ethic. He is driven by goals and often says of his approach to new targets, "If its challenging let's go for it."
However, he believes that the lessons learnt have really assisted his company's ability to grow its service offering.
Zizi Training's recent clients include SA Home Loans; eThekwini Municipality and Mazars Gauteng). Former clients include: Ithala Development Finance Corporation, Absa Consumer Education and Hibiscus Coast Municipality, amongst others.
Said Gcume, "In the future, the company is determined to make a difference by continuing to target the vulnerable sectors of society. not only through financial literacy training but through targeting programmes at previously disadvantaged individuals living with disabilities and early childhood development training.
Gcume believes that any training must be a meaningful experience with tangible outcomes. Recently, a group of ten people went through a practical training programme which included computer skills, writing CVs and interview skills, of whom six beneficiaries have been employed.
Zizi Training welcomes proposals from companies who are interested in upskilling their staff as well as participating in providing the general public with opportunities to acquire financial literacy skills.
Contact Sazi Gcume
C: 073 634 9610
E:
sazi@zizitraining.co.za