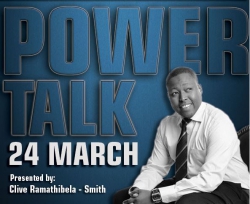 Durban Chamber of Commerce and Industry are proud to announce that we will be hosting Clive Ramathibela-Smith
Durban Chamber of Commerce and Industry are proud to announce that we will be hosting Clive Ramathibela-Smith
2015-03-11
Clive will host a Power Talk on the "State of the African Economy, Empowerment or Re-colonisation"

About Clive Ramathibela-Smith:

Clive is the Home-made Economists; passionate about investments. In 2008 Clive joined Sasfin Bank as an investment administrator, responsible for implementation and strategy. In less than a year he had played a critical role in creating new marketing strategies and effective client management tools. He was promoted to Business Development Consultant of Sasfin Asset Managers where he was responsible for turnaround strategies and the construction of new portfolios.

Clive sits on a number of boards where he advises on Private Equity and Investments, including the Kaizer Chiefs Pension Fund, Merseta and many more. He is a regular commentator on SAFM, a contributor to eNCA Africa on eTV and a Market analyst on Kaya FM.

Clive recently launched his company Clivera Incorporated Pty LTD, a multi-disciplinary advisory business that focuses on Investments, Consulting, Social and Entrepreneurial Development and Financial Literacy.

Tuesday, 24 March 2015
08:30 - 10:30

This session is offered free of charge
Venue:
Chamber Square, Lion Match Office Park, 892 Umgeni Road
Click here to view parking map for Chamber visitors
Enquiries & RSVP: Prudence Sakala - Tel: 031 335 1000
Email:
sakalap@durbanchamber.co.za
Click below link to download booking details:
Power_Talk_The_State_of_the_African_Economy_Empowerment_or_Recolonisation_dbfc2b7adb335b8b97c0b573d270e9fb.pdf
- 134.8 KB
---