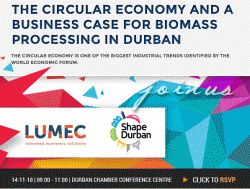 Durban Chamber - Economic Affairs Forum - 14 November 2018
Durban Chamber - Economic Affairs Forum - 14 November 2018
2018-11-12
Presentation: The circular economy and a business case for biomass processing in Durban
Presenters by: Joanne Parke, Paul Jones and Thembi Sikobi from LUMEC

The circular economy is one of the biggest industrial trends identified by the World Economic Forum. What does the circular economy concept actually mean and how can local business prepare for the threats and opportunities it presents? This presentation provides an overview of the circular economy concept and introduces an example of how the circular economy is being realised in Durban.

Presentation: Shape Durban
Presenter: Justice Matarutse from Ethekwini Municipality

The Shape Durban workshop will create a shared action plan for inclusive economic growth. Participating in this process means to work as a co-owner with the city and various other stakeholders towards influencing the future direction of the city. This approach, where we are "partnering for growth", will ensure that our shared action plan is co-created by a cross section of economic stakeholders and represents areas of consensus and collaboration that will move our economy forward.

14 November 2018 | 09:00 - 11:00
Attendance is free
CLICK TO RSVP
Venue:
Durban Chamber of Commerce and Industry Conference Centre
892 Umgeni Road, Lion Match Office Park, Durban
View Directions

For further information contact Bharriey Pillay or call: 031 335 1000
---