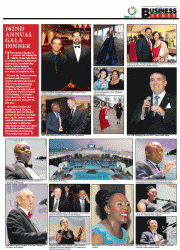 The Durban Chamber of Commerce 162nd Annual Gala Dinner
The Durban Chamber of Commerce 162nd Annual Gala Dinner
2018-11-26
The Durban Chamber of Commerce and Industry has held an Annual Gala Dinner to commemorate and celebrate the organisation, its membership and the Durban business community as a whole every year since its inception in 1856.

This year the Durban Chamber partnered with long-time member and platinum sponsor of the event, Mediterranean Shipping Company (MSC) Cruises, for the 162nd Annual Gala Dinner which was hosted on Wednesday, 7 November 2018, aboard the MSC Musica, which docked in Africa for the first time.

The Durban Chamber also brought on board, Vodacom and Huawei, who were the gold
sponsors for the event. As a major port City, the Durban Chamber wants all businesses to recognise and capitalise on all business opportunities available and related to the ocean economy hence the theme for this year's event was "The World is Our Oyster".
---